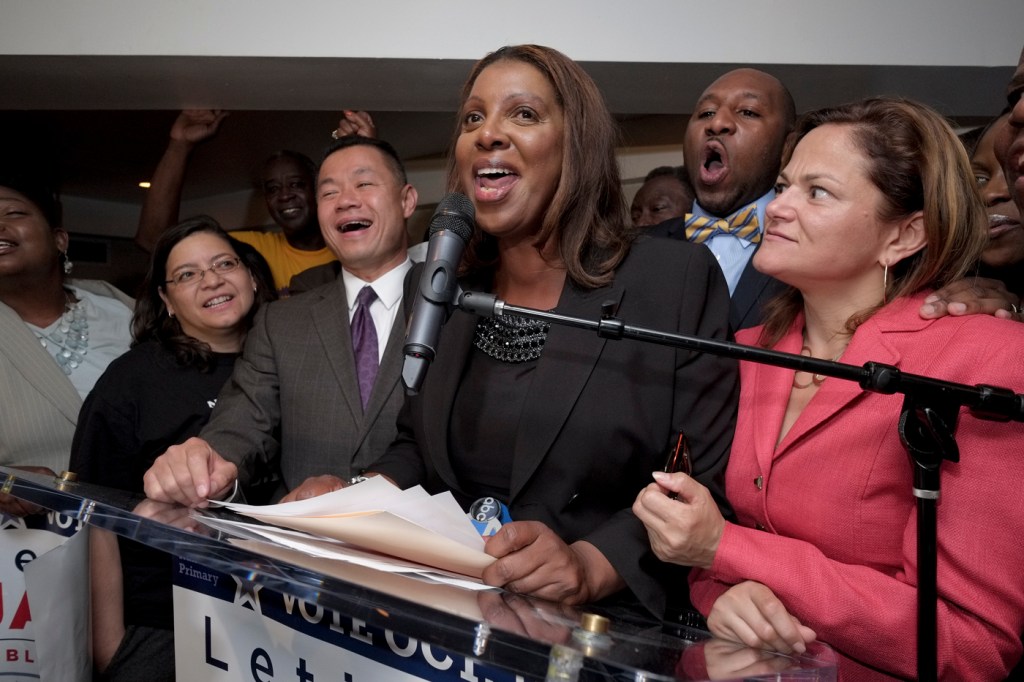 Brooklyn City Councilwoman Letitia James claimed victory tonight in the public advocate's runoff, delivering an emotional and defiant speech after handily beating her Democratic opponent, State Senator Daniel Squadron.
Speaking to a crowd of cheering supporters packed onto the rooftop of the Copacabana Club in Midtown, Ms. James vowed to be a "champion in government" for immigrants, women and workers.
"Over the last weeks and months, this has been a tense journey, the one we've taken," she said, surrounded by fans on a small stage. "This is about more than a campaign. What matters is how everyday New Yorkers are making it in their struggles in the toughest city in the world."
The win all but assures Ms. James's status as the first black female elected to citywide office–a first Ms. James's supporters emphasized during the runoff against Mr. Squadron, whose win would have resulted in an all-white and all-male Democratic ticket.
"Today, you elected me the first," she said, as the room erupted into wild cheers, "the first woman of color to win citywide office … I am so proud of what we accomplished together, and yes, I'm proud that we made history today."
Ms. James, a former Legal Aid attorney who became well-known on the council as a vocal critic of the Bloomberg administration, ran a campaign vowing to be a thorn the next mayor's side. She told the crowd she'd work to provide more opportunities for the next generation of New Yorkers–pointing to broken schools, the working poor, misguided police policies and rising income inequality–and also  hitting the current mayor. ("And no Mayor Bloomberg, we don't need any more billionaires," she quipped.)
But Ms. James also struck a negative tone. She slammed "right wing republicans … who are more invested in destroying this country, destroying President Obama, than they are in making America work." She even directed barbs at the defeated Mr. Squadron, pointing out that she'd won despite being outspent, "despite the tabloids going to bat for our opponent," "despite all of the rich and the one percent-ers that supported our opponent" and "despite those powerful senators in Washington."
Mr. Squadron's former boss, Senator Chuck Schumer, had played a large role in his campaign. But his backers, as well as endorsements from the three major papers, proved a weak match to Ms. James's establishment and labor support, whose get-out-the-vote efforts appear to have been crucial in the low-turnout race.
Ms. James had secured the most votes in the first round of the primary, but not enough to win outright in the then-crowded field. The brief one-on-one contest turned into one of the nastiest of the election season, with the two lodging–and then criticizing one another for lodging–repeated attacks.