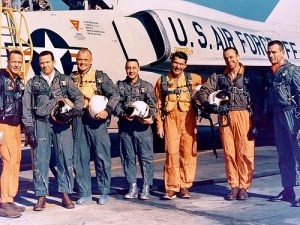 The 21-story co-op building at 1080 Fifth Avenue once had over 70 units, Stribling broker Marcy Pedas Sigler recently told The Observer. Today, due to combinations, it has a mere 45, one of which—the entire ninth floor—recently sold for $15 million, according to city records.
"This building has coveted views," Ms. Sigler, who herself lives on the 16th floor, said. "It's where you come if you want to see the sun, moon and stars. The astronaut Scott Carpenter used to say these were the best views he'd ever seen. And he'd orbited the earth several times." In her apartment at 1080 Fifth, Ms. Sigler introduced Mr. Carpenter, who died earlier this month, to his fourth wife Patty Barrett Carpenter, who had been a client. Though she was not responsible for the matchmaking involved in the ninth-floor unit, which was not listed publicly.
When it comes to grand vistas, Dewey K. Shay, the proud new owner of the sprawling floorthrough, cannot possibly have  the same breadth of reference as Mr. Carpenter—a member of Project Mercury, America's original space program—but no doubt he admired the scenery. The co-op boasts some of the city's finest Central Park views and also enjoys vantages of the Guggenheim—something for Mr. Shay to enjoy through the sizable picture windows whether his aesthetic tastes run to the natural world or Frank Lloyd Wright. And Mr. Shay, the co-founder and CEO of Unison Site Management, which deals in wireless cell tower leases, certainly has some experience with high perches.
The seller, Jonathan Ledecky—a blue-chip investment manager who made a fortune during the 1990s buying up small, similar businesses and packaging them into a large, public company—acquired the last segment of the building's 9th floor in 2010 for $1.85 million. Though the corner unit's former listing shows a property in need of significant updating,  (perhaps accounting for its relatively modest price), it nonetheless featured dramatic southern exposures, two bedrooms and a maid's room, which—surprise!—did not benefit from those southerly vistas. (City records do not indicate the cost of the other units, which likely took place before co-op sales became a matter of public record.)
Mr. Ledecky has in recent years turned his professional attentions to the world of video games, which does not have quite the techie panache as a trip into orbit, even if the computers involved are more powerful than those that steered Mr. Carpenter's shuttle heavenward. Still, as Ms. Sigler recently told us, and which Mr. Ledecky surely noticed during his tenure in the building, one needn't go much higher than Carnegie Hill to see the moon and the stars.