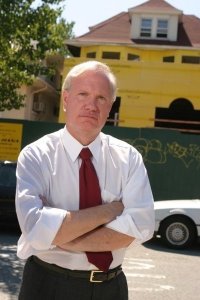 Democratic State Senator Tony Avella is not ready to back his party's nominee for the City Council seat he once held.
After a corruption scandal felled GOP Councilman Dan Halloran's political career, Paul Vallone eked out a victory in his eastern Queens district's Democratic primary contest last month. But Mr. Avella, who had endorsed another Democrat in the race, has mixed feelings about the matter.
"Paul Vallone was not my candidate, is not my candidate," Mr. Avella told Politicker yesterday. "A lot of people are very unhappy on the Democratic side Paul Vallone won the election. A lot of of people expressed big disappointment. He got about 30 percent of the vote, which means 70 percent voted against him."
Although Mr. Avella's primary pick crossed party lines to endorsed Dennis Saffran, the Republican nominee, at a press conference yesterday, Mr. Avella was not willing to go that far. Still, he said he found Mr. Vallone's candidacy distasteful, including Mr. Vallone's suggestion that he would bring more money to the district than either Mr. Avella or Mr. Halloran.
"That a little annoying. I'm gonna take another look at this race. Comments like that do not help his cause," Mr. Avella remarked.
In particular, Mr. Avella–who tangled with Mr. Vallone's brother, Councilman Peter Vallone, in the Democratic borough president's contest before dropping out–complained about the political action committee backed by the Real Estate Board of New York, which spent heavily in support of Mr. Vallone and against his opponents
"I am concerned because of the mailings Jobs for New York did on behalf of Paul. It's very disconcerting to see … an organization that's basically run by REBNY, which of course, I've had my run-ins with," Mr. Avella explained. "One of the big issues in this district is over development. It's very disconcerting see a PAC put in money for a candidate like that. I don't know what that bodes for the future."
Reached for a response, Mr. Vallone's campaign rejected Mr. Avella's comments, pointing out that Mr. Avella benefited from thousands of dollars in independent expenditures in his 2010 Senate victory.
In a statement, Mr. Vallone also said he was "saddened" by the critical commentary.
"I am saddened by our Senator's comments yesterday. Our family has carried his petitions, supported his campaign to regain our State Senate seat and even had our children sing at his inauguration speech," Mr. Vallone said. "Still, I look forward to working with him on behalf of our community and district."
But Mr. Vallone may still get Mr. Avella's endorsement.
"You know, I am a member of the Democratic Party, I'm Democratic elected official, and I am obviously not happy by the campaign that was conducted by Paul Vallone. I am not happy with some of the comments made," Mr. Avella said yesterday. "Obviously, while I'm neutral, I won't be neutral in the future."