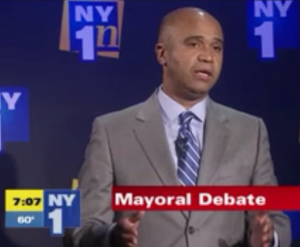 Two of the city's three leading mayoral candidates debated on live television last night. But the most prominent one was MIA.
Bill de Blasio, the city's public advocate and the Democratic nominee, who is leading by as many as 50 points in public polls, skipped the first major debate of the general election–despite repeated requests from NY1.
So instead, Joe Lhota and Adolfo Carrión, the nominees of the Republican and Independence parties, took the stage to debate one another in the front-runner's absence. In addition to fielding questions on stop-and-frisk, transportation policies and various controversial elements of their pasts, both candidates still got the opportunity to address Mr. de Blasio and his signature policy proposal: a tax on high-income earners to fund universal pre-kindergarten and after-school programs.
"I oppose his proposal and I think that in the highest tax place in the nation at the moment, we cannot afford to increase taxes any further," Mr. Carrión said, arguing that Albany would never agree to such a plan, as would be required. "The fact is Mr. de Blasio is playing a bit of a smoke and mirrors game and a pandering game."
Mr. Lhota, pointing to studies he said demonstrated that higher taxes would push wealthy New Yorkers out of the city, declared that he completely agreed with Mr. Carrión. Indeed, both candidates, who identify as social progressives and fiscal conservatives, took few jabs at one another, instead kept their focus on Mr. de Blasio.
At one point, moderator Errol Louis switched things up by allowing the candidates to ask questions of the missing Mr. de Blasio. "We're going to do something a little unusual here," Mr. Louis said. "And we have good reason to think that he may be watching–or people close to him may be watching."
"Bill, if you're out there listening, how can you possibly call yourself a progressive when you are so opposed to charter schools?" Mr. Lhota asked, repeating a recent campaign talking point.
"Bill, I know you're watching," Mr. Carrión stated matter-of-factly, calling the absence "disrespectful to the voters." Again labeling the de Blasio tax-the-rich plan near-impossible, Mr. Carrión questioned, "If you don't succeed, will you keep your commitment to the children of New York City and offer universal pre-K?"
But, of course, there was no one to answer.
Three televised debates are still planned between Mr. Lhota and Mr. de Blasio. And Mr. Lhota, who is polling far ahead of Mr. Carrión but far behind Mr. de Blasio, said he expected these verbal bouts to change voters' minds. Mr. Carrión said he hoped the majority of voters who did not vote in the Democratic primary would turn out in November.
Mr. de Blasio's campaign spokesman did not respond to an inquiry about his location, but political observers widely believe the once press-friendly candidate is playing it safe with less than a month before the election.
Towards the end of the debate, Talking Points Memo reporter Hunter Walker, who once worked for The Observer, said he walked by the de Blasio campaign headquarters and found no one watching the exchange.