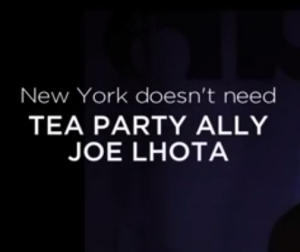 Bill de Blasio may be dominating in the polls, but a collection of the city's labor unions is trying to run up the score by continuing to link his main rival in the mayor's race, Joe Lhota, to the right-wing of his own party.
The group, New York Progress, launched what one labor organizer today told Capital New York is a $1 million-dollar television buy that tries to work in the words "Republican" and "Tea Party" as many times as possible.
"The Tea Party Republicans shut down our government but Joe Lhota told the Tea Party he shares their views," the narrator declares. "New York needs a mayor for the middle class, not a Tea Party ally like Republican Joe Lhota."
The ad cites a Staten Island Advance report that quoted Mr. Lhota expressing agreement with some members of a local Tea Party group. Mr. de Blasio has often used the same line of attack against Mr. Lhota, who is socially liberal and maintains he has nothing to do with right-wing Republicans in Washington.
Asked about the ad at an event earlier today, Mr. Lhota called Mr. de Blasio a hypocrite for denouncing a smaller, pro-Lhota independent expenditure  effort while not speaking out against the unions' spending.
"It's a million-dollar buy? Wow. That would be the largest single buy of anyone throughout the entire campaign process, including the primaries," Mr. Lhota said, according to the Daily News. "He's being a hypocrite, which shouldn't surprise anyone. He's been a hypocrite his entire life in public service."
Update (2:50 p.m.): Reached for a response to the "hypocrisy" charge, de Blasio campaign spokeswoman Lis Smith said their disagreement with the pro-Lhota PAC is its lawsuit to allow unlimited contributions, not its political loyalty.
"Only the right-wing billionaires and Tea Party groups supporting Joe Lhota are upending campaign finance laws to drown out the voices of New Yorkers. They're breaking the rules and it's bad for New York," Ms. Smith said in a statement.
View the new ad below:
[youtube=http://www.youtube.com/watch?v=6WDhumUryMg&w=420&h=315]
Additional reporting by Jill Colvin.