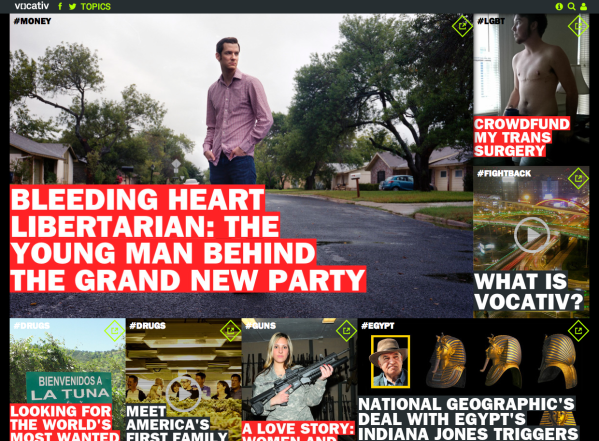 For months, we have been hearing about journalists getting hired by Vocativ, a website financed by Mati Kochavi, an Israeli entrepreneur.
The reporters who interviewed at the Penn Station-adjacent office were not able to provide many details (they had signed nondisclosure agreements). All we could glean was that there was a website that was staffing up and it involved some sort of proprietary search software, and that the site paid decently for well-reported articles.
But according to CEO Scott Cohen, the air of mystery was just the result of a prolonged soft launch, a development arc more common to the tech world than media. The website launched in beta in late 2012 on a basic WordPress platform.
"To some people who saw it out there but didn't know anything about it, it seemed secretive," Mr. Cohen told Off the Record the day after the launch in the company conference room overlooking Seventh Avenue. "But in reality, it was almost the opposite, because we were basically getting it going and doing the start-up while there was a face out there in beta."
Vocativ officially launched on Monday, with an interface resembling a cross between Vice, BuzzFeed and NowThis News. Pictures tile the site, overlaid with headlines ("Disco and Death: Party Time in Syria," "Fucking in a Fiat: Sex and the Slowdown," "Hey America, Get Ready for Krakodil") and hashtags (#drugs, #sex, #Syria).
The articles, clearly aimed at the lucrative millennial demographic, may seem like the parody Twitter feed "Vice is Hip." Although the content doesn't seem entirely revolutionary, the methodology behind gathering it is the site's point of differentiation.
Around 50 journalists in the New York bureau (there are five other small bureaus in Moscow, Delhi, Istanbul, Beirut and Mexico City and plans to open more) work with "data ninjas," a half dozen analysts and data scientists who come from the tech industry, the military and Wall Street, as they mine the un-Googleable "deep Web" using a proprietary technology called Open Mind.
"The technology can see what Google is not structured to see, what the search engines and spiders are not structured to see," Mr. Cohen explained. "By honing into open social media posts, public records, databases, etc., we can get a real sense for the conversation that's bubbling beneath the surface. The idea is to have that bottom-up approach."
Open Mind was originally developed for the "law enforcement and public safety" space, but Mr. Kochavi realized it could be adapted and used as a newsgathering tool.
"[Mr.] Kochavi looked at the Arab Spring and the financial crisis and said, 'Wow, every news organization and financial institution and perhaps intelligence organization missed it,'" Chief Business Officer Steve Alperin explained of the site's origin.
"He started building the technology in Israel in another one of his companies and said, 'Well, if I took that and put it with some journalists, that would be really interesting as a way to go about looking at the world.'"
The journalists come from traditional news backgrounds. (Mr. Cohen, who ran Daily News digital for four years, met Mr. Alperin at ABC News.)
"It's gone from a tool of public safety into a tool of public knowledge," Mr. Cohen said of Open Mind.
On Tuesday, Vladi Vovtchouk, a blond, 24-year-old Israeli data ninja in a plaid Tommy Hilfiger button-down, came into the Vocativ conference room to demonstrate how Open Mind works.
As an example, Mr. Vovtchouk showed us how a search inspired by recent news coverage of Saudi Arabian women driving yielded another story entirely. By expanding the search parameters to "Saudi Arabia," it turned out that the most popular story on social media in that country was not the Oct. 26 demonstration but the fact that men were not being allowed in some restaurants.
The Vocativ team explained that, had  the search relied on variations of the phrase "women driving," it would have missed what people were really talking about on the ground.
Mr. Vovtchouk's search combed geo-tagged social media and message boards, while he translated Arabic hashtags into English. The results appeared on a map  showing who was initiating the conversation, along with news of a restaurant with an Arabic sign that forbade men during certain hours. Mr. Vovtchouk then sends tips to reporters or to the editor in chief, Noah Kotch.
"Without talking about our competitors, genuinely new information is very valuable," Mr. Alperin said.
Vocativ doesn't have advertisers yet. But Messrs. Cohen and Alperin insist that it's a business with a profitable model (it will include syndication and editorial partnerships). And it is still evolving as it experiments with the brave new world of turning data surfing into journalism.
But ultimately, the goal is similar to old-fashioned outlets without proprietary technology or ninjas.
"We want to be known for what we find and how cool the stuff is," Mr. Cohen said.
While software developed for security purposes may help find stories, there is still no sure-fire technology to develop readership. But foreign news laced with sex and drugs may help.