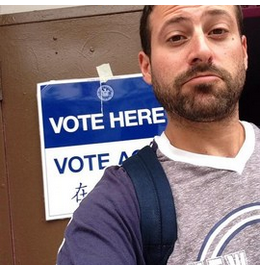 It doesn't look like the #VoterSelfies movement is going to sweep the Philippines anytime soon. Ahead of today's elections, the country's Commissions of Elections reminded voters that it's illegal to take pictures of completed ballots and laid out guidelines as to when it the requisite selfie is allowed.
Voting laws state that making copies or identifying who someone voted for, which a completed ballot selfie falls under, is prohibited in the country. 
Per last year's resolution, the use of cell phones, cameras and other gadgets that could be used to "identify" a vote is also banned in the polling booth. However, they're not totally killjoys over there:
"It's also OK to stand in front of the Board of Election inspectors and have your selfie taken but no selfie with the filled-out ballot," said election spokesman James Jimenez told Inquirer News.
So, that means the "I voted" sticker selfie in the Rise filter on Instagram is still legal.