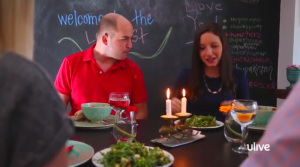 NY1's bubbly traffic reporter Jamie Shupak is one step closer to becoming a lifestyle personality.
Ms. Shupak launched a new web series today where she makes dinner for her friends and her fiancé, Brian Stelter (yes, the couple announced their engagement this past weekend) at their apartment. 
The series of three-minute webisodes, which Ms. Shupak is doing for new lifestyle video site ulive, is called "TV Dinner with Friends."
After all, Ms. Shupak is on TV and her fiancé, Brian Stelter, covers media and TV for The New York Times, wrote a book about morning shows and is a not-infrequent TV guest.  The idea is that Ms. Shupak's meals are kind of like TV Dinners, except not: they are healthier and homemade.
"These are better for you and they're more fun and maybe you can even you can watch them in front of the TV, too," Ms. Shupak says in the introduction to the episode.
Meat and dairy are the "absolute devils" for Ms. Shupak's arthritis, she explains, so she cooks "lots of veggies and lots of grains."
"So whatever your ailment is, whether you're trying to stay cute and sexy or you have arthritis like me, you've got heart problems, whatever it, this is why these healthy TV dinners are going to help you reach that goal," Ms. Shupak says.
In the first episode, Ms. Shupak makes a "garlic shrimp white bean extravaganza."
"Right now the chilies, the garlic, the veggie broth, the tomatoes, they are all getting to know each other," she says, as she stirs. "It's kind of like a long weekend away at the mountain house."
Mr. Stelter wanders into the kitchen for a taste and pronounces the dish "perfect." Later, as the stew is in the oven (where, presumably the ingredients are getting to know each other even more intimately), the doorbell rings and another couple comes over to eat the meal, which includes a salad, grilled bread and what looks like wine glasses filled with water.
Nothing like a good TV dinner.