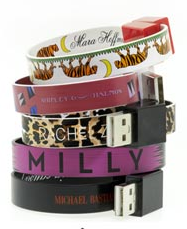 Move over, weird Google Glass earbud. There's a new kind of wearable tech in town, and it's marginally cooler-looking.
The Council of Fashion Designers of America and eBay have teamed up to color with magic markers on a bunch of USB cords, then wrap them around people's wrists, PSFK reports. See, they are iPhone chargers that don't come with iPhones or wall plugs.
The bracelets are only $25 and go on sale Nov. 11, so they're a great choice if you pull your dorky cousin in the family Secret Santa. Designed by the likes of Milly and Rachel Zoe, they're definitely chicer than the discolored greyish standard issue Apple USB cord that's currently tangling itself up in every single item in your purse.