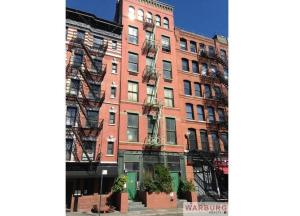 It seems somehow fitting that the Japanese-born conceptual artist Arakawa, who once outfitted a Long Island house with "level changes meant to induce the sensation of being in two places at once; windows that seemed too high or too low… and an absence of doors"—according to his obituary in The New York Times—kept a home with an elevator shaft containing a non-working elevator. That domicile, a  six-story townhouse located at 124 West Houston Street, has just hit the market for the first time since 1967.
The asking price, however, is very 2013—Warburg Realty's Gordon Roberts and Eastern Consolidated hope that the property can fetch $22.5 million.
Together with his wife, the artist Madeline Gins, Arakawa—who, àla Prince, used neither first name nor honorific—had a retrospective in 1997 at the Soho branch of the Guggenheim, and obsessed in his work over subject matter no less lofty than the prospect of man's triumph over death.
Buyers whose predilections tend somewhat less esoteric, however, might be titillated to learn that the artist who continues to be known as Bob Dylan used the first floor of the building as a rehearsal venue for a time. (We have been unable to determine if Mr. Dylan and his band were forced to lug their instruments up and down stairs, or whether at the time of their residency the now-stilled elevator remained in service.)
Making much of the structure's pedigree, the listing trumpets "cast-iron details on the facade, slab marble floors, and pressed tin wall treatments and ceilings… open views, 12-foot ceilings, full floors, and no interior columns," while shying away from the condition of those striking details.
"This is perfect for a condominium conversion, private home or rental, with as-of-right retail," brag Eastern Consolidated's Alexander Erdos and David Schechtman—basically, after a total overhaul, the house will be a perfect whatever you build.
Still, there can be no arguing with the fixer-upper's location—pressed between Sullivan and Thompson, just as Soho meets the West Village—a kind of four-way kiss of pricey hipness. At least Arakawa's interest in impermanence acknowledges the inevitability of change, even if his work feels at odds with up-market transformation of his former Bohemia. And we assume that he would sympathize with his wife and long-time collaborator's desire to reap the financial benefits of their collective efforts. The couple incurred substantial losses as a result of Bernie Madoff's fraud, the Times reported at the time of his death, but Ms. Gins remained focused, despite her loss and Madoff's cynicism, on the locus of their work—on the here and now. "It's immoral," she said then, "that people have to die."