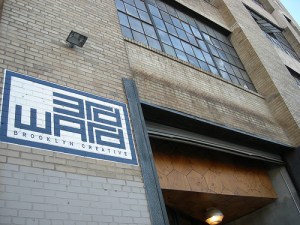 Jessica Holsey was leaving the office of her sustainable event supply company, Susty Party, last Tuesday night when she noticed a large group of people smoking and drinking in the front hallway. Since her business rented a coworking space on the second floor of 3rd Ward, the Brooklyn art studio-cum-teaching-space-cum-design incubator, the sight wasn't as completely out of place as it may have been in a Midtown law firm, but the swarm of people was still unusual for a weeknight. "They asked me if I had heard that 3rd Ward was going to be shut down at midnight," Ms. Holsey told The New York Observer. It was already 9 p.m.
Ms. Holsey made a frantic call to her co-founder, Emily Doubilet, still upstairs, to inform her of the news. "She said something like, 'It's dead, it's over, we've got to move. Now."
Susty Party is currently racing toward its January unveiling of a new product line, which will include the first-ever bioplastic compostable tablecloth, made in a facility that employs the blind. That may sound like a Portlandia punch line, but the company is a million-dollar one, and the news that they would have to move their six-person operation ASAP was more than disrupting. Instead of focusing on the Whole Foods conference on sustainable business practices they were scheduled to attend in Austin this week, the company was sent into limbo. Without official word from 3rd Ward's management, Susty Party wasn't even sure the rumors were founded.
"Some people were saying at first the co-working space would be kept open, that the landlord would just take over our subleases, but that didn't turn out to be true," Ms. Holsey said. The confusion was understandable. For a good 24 hours after rumors began to circulate, 3rd Ward's management maintained radio silence, leading to mass hysteria as members tried to figure out what would happen to their studios, classes and money.
Last Wednesday night, finally, an official email was sent out to members, confirming the worst: "3rd Ward is closing its doors," it read. Members were informed that they had until the following Tuesday to collect their things. "Unfortunately, you will not have an opportunity to use your membership after today at 6 p.m., and we will not be able to refund any payments made for membership services that have not been fully utilized before that time." No explanation was given as to what caused the sudden closure or what happened to the money.
From the outside too, 3rd Ward's closure came as a shock. Just this past January, its founder, 34-year-old Jason Goodman, boasted to website Smart Planet that the design incubator had done $4 million in business for 2012, with revenue coming in not just from membership fees but also from classes, leasing out studio and co-working space, and from outside investors.
What's more, the brand was actually in the midst of an expansion, with a recently opened Philadelphia location and a $6 million culinary incubator in Crown Heights, set to open this month ($1.5 million of which came from the EDC and the Brooklyn Borough President's Office).
After seven years of success, groups from all over the world were looking to adopt Mr. Goodman's model of local teaching and community growth. A round of fundraising that ended in 2012 seemed to soar expectations even higher: Joanne Wilson, wife of New York venture capitalist Fred Wilson, invested and became the director of 3rd Ward's board; billionaire Tony Hsieh gave several million on the promise that Mr. Goodman would open a 3rd Ward in Las Vegas.
According to one former employee, the entrepreneur had a difficult time saying no to people and would take on crazy money-losing projects seemingly on a whim. This included but was not limited to: the outdoor Brooklyn trailer-restaurant Goods, closed after 10 months in 2011; the Metro Building project, where Mr. Goodman and 3rd Ward co-founder Jeremy Levitt (who was bought out three years ago) lived with and were landlords to 50 artists in a Williamsburg building they had personally renovated until the Department of Buildings evicted all tenants; and the construction of a series of "dumpster pools" that Mr. Goodman showcased at the Palms. Still, the source noted, 3rd Ward as a business could have survived the occasional bad idea.
So how did everything go wrong so quickly? Many want to blame Mr. Goodman's laissez-faire management style, which involved a lot of Silicon Valley-fueled jargon and conceptual strategies that were difficult if not impossible to implement.
"He was a great founder but a terrible CEO," said one source close to the company. "He suffered from great ideas, big ideas to a fault, and he should never put himself in a position to also be in charge of details." Though he wasn't a daily sight at 3rd Ward—several longtime members claimed to have never seen him in the building—when he did show up, it would be to announce some seemingly arbitrary shakeup that would send his staff scrambling.
"One time, he decided that teachers would all of a sudden be paid on how many people showed up to their classes," said our source. "Which, fine, you want to have a meritocratic or commission-based system, you need to be able to see how many people show up. But then a week later, our whole system crashes, and we never get it fixed." A developer was hired in the spring of 2012 to retool 3rd Ward's website and make it easier to register for classes, but instead he broke the whole system and then left. People would show up for classes they had paid for, only to find they weren't on the list. The lag time for registration turned from hours into weeks, causing massive retention issues.
Meanwhile, 3rd Ward's finances weren't the rosy picture Mr. Goodman had painted to the press. "Sure, in 2012, 3rd Ward had revenue of about $3.6 million, but they barely turned a profit, if they ever did," said one source knowledgeable of 3rd Ward's finances. "Mostly because it's an incredibly complicated and resource-intensive business to run."
At the peak of its success, 3rd Ward may have had several thousand members, the source added, but only a hundred or so would be "active" members; the rest would purchase deals on a class or two but then fall off the map. The membership structure was split into two components, the classes and the studio space, with the highest level of membership costing $300 (and later $399) for full use of all the studios. This operated on a net loss, though, occasionally, someone would pay several thousand dollars upfront for a year-long membership to ensure prime real estate in the studio of their choice. The classes, which paid teachers $30 to $50 per hour and would charge students $20 to $25 per hour, were where 3rd Ward would hypothetically make its money.
While 3rd Ward's classes and community were good publicity for the new Maker culture, Mr. Goodman came under pressure to share his secrets with the world. "He got it into his head that the answer to making 3rd Ward a profitable business was to expand it and have 3rd Wards in a bunch of cities, that maybe all together it would be O.K. Investors and developers were throwing money at him," according to a source close to Mr. Goodman.
One group that pitched Mr. Goodman aggressively was comprised of developers from Philadelphia who offered to give him a building—and build it out, custom-made, to his specifications—for free. Then there was the RFP that New York City put out looking for culinary incubators, a secret dream of Mr. Goodman. He won the proposal and by early 2012 suddenly found himself on the line for two multimillion-dollar projects.
But instead of expanding, 3rd Ward became a financial house of cards after a strange deal a year and a half ago with Next Street, a Boston- and New York-based merchant bank that was originally hired to consult with 3rd Ward's board about the expansion projects in Philly and Crown Heights. Next Street came up with a number—our source puts it in the high seven figures—and offered to match in debt what 3rd Ward could raise in equity in order to reach that number.
The capital was raised thanks in large part to Mr. Hsieh—one public SEC filing during the period shows they were able to get at least $2.5 million from investors, though sources put the actual figure between $3 million and $4 million—but when it was time for Next Street to release the funds, they were unable to uphold their end of the bargain, ultimately reconditioning the terms of the agreement for much less money on their end. Next Street used that money as leverage to force changes at 3rd Ward, including two rounds of layoffs in quick succession earlier this year that led to a 50 percent staff reduction.
Between the internal problems of membership decrease—partly due to another of Next Street's alleged hostage tactics, which had 3rd Ward change its terms of service and increase membership fees while cutting benefits—and the sudden lack of funds to keep the Philadelphia expansion up and running or complete the Culinary Incubator, a decision was made to shut the whole thing down.
Mr. Goodman, whatever you want to say about his managerial style, probably didn't have a lot of say in this decision; he was no longer the majority shareholder of the company and most likely hadn't been since the round of equity raising, said a source. When asked for comment, Mr. Goodman told The Observer he wouldn't go into specifics about the nature of the shutdown but said he was devastated and had been working hard to prevent it. "This is obviously a big tragedy for all of us, for the community, for our customers. We really shared a common vision together over the years for a common space, unique and special, and to make it work. And it was just a huge loss for everybody, including me."
Right now, it appears the plan is for 3rd Ward's assets to be liquidated and turned over to its creditors (including the company it owes the biggest debt: Next Street, which did not return calls for comment). As for those displaced by the shutdown, not all harbor hard feelings. "It was such a great place to work; there isn't anything like it," said Ms. Doubilet, who signed a new lease on a co-working space in Greenpoint earlier this week for Susty Party. "It's just really sad, but I'm glad for the time I had here."