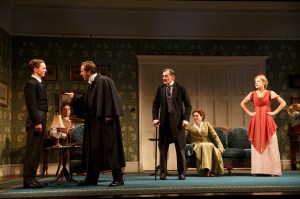 Terence Rattigan's 1946 play The Winslow Boy may be a masterpiece, but it poses a challenge for anyone attempting to produce it in New York. "Because this is a very English play, I was slightly worried about how it would work with American audiences," said director Lindsay Posner. "So it was a great relief to see that everybody's responding in the same way and in the same places to the piece." Mr. Posner should know—he did the first production of The Winslow Boy in 20 years in London (at the Old Vic earlier this year) and is now giving the play its first Broadway production since its original Broadway engagement in 1947-48. It bows Oct. 17 at the American Airlines Theater.
The play's quintessential Englishness is immediately apparent in its set, which has been imported intact from the London production.  The action plays out in a sedate Edwardian-vintage drawing room. A voracious press clamors outside the home, and bulletins from the frontlines arrive by phone or by chatty domestic. At stake is the family honor, which has been tainted by the youngest of their number, 13-year-old Ronnie Winslow, who has been sacked from the Naval College at Osborne for stealing a five-shilling money order from a fellow cadet—a charge he vehemently denies and his father, Arthur, obsessively fights at a considerable cost to all (his own health, his daughter's engagement, his other son's Oxford education, to say nothing of the dwindling family fortune). It may not be in the same league as The Dreyfus Case, but it is nevertheless a gross miscarriage of justice.
Ronnie was expelled without a chance to protest his innocence. It was a closed case, because Osborne, as part of the Royal Navy, was the King's domain, and the King could do no wrong. Mr. Winslow's only means of reopening the case was to file a Petition of Right, which would be filtered through a myriad of official channels before being placed before the Crowd. The petition was based on the principle "let right be done," a phrase that fiercely defines and motivates this family.
Mr. Rattigan got the idea for The Winslow Boy from an article by the American critic Alexander Woolcott that told of a lad named George Archer-Shee, who was similarly sacked in 1908, and the extremes his father went to "publish my son's innocence." The drama inherent in this action leaped out at Mr. Rattigan, who moved the action up four years and changed the name of the innocent.
Todd Haimes, Roundabout's artistic director, admitted recently Mr. Rattigan was a pet playwright of his, and, indeed, he is responsible for the only Broadway revivals of Rattigan in 40 years—The Deep Blue Sea with Blythe Danner in 1998 and Man and Boy with Frank Langella in 2011. "I've had my eye on The Winslow Boy, and I've had the rights several times," he said. "Earlier this year, I saw a splendid production of it in London, and I invited the director to come over and do it here with a new cast." That director, Mr. Posner, is the latest in a line of British directors Roundabout has recruited to rework their hits here—there have also been Sam Mendes with Cabaret, Maria Aiken with The 39 Steps, Sam Buntrock with Sunday in the Park With George and James Lloyd with Cyrano.
"I made a point of not wanting to replicate exactly what I did in London," Mr. Posner said. "It's a new cast. It's a new chemistry of personalities, so that instantly changed the results. I interpreted the play the same way, but I was keen to bring actors to a discovery of it themselves rather than me just telling them as if I had secret knowledge of how the play was.
"I think the most fun I've had redoing this play is finding the humor and heart and depth of it with different actors. Each actor is a different type of actor. Henry Goodman, who played the father in London for me, had a different sort of gravitas than Roger Rees, and Roger found a different way into the English patriarch than Henry. Both performances are equally valid and good, just slightly different."
Most of Mr. Rees's theater work of late has been on the other side of the footlights (co-directing Peter and the Starcatcher, co-writing plays, serving as Williamstown's artistic director), and what acting he has done has been for other provinces or in other mediums. Arthur Winslow is the first role he originated on Broadway since his Tony-nominated performance in 1996's Indiscretions, and he plays this crippled martinet with vigor and gusto. For all practical purposes, he's the hero of the piece.
"This play is a staple of the British repertory system," said the actor. "And it's a play I love very much. I find it very moving. I've seen wonderful actors play this part. Nigel Hawthorne and I did a play called Hapgood together and became great friends—he got to play this part in David Mamet's movie remake. He was great, so it's a joy to do it. It's a part I've always thought, oh, what a wonderful role to play."
It's not his first Rattigan. "Years ago, I was in French Without Tears. Zoe Wanamaker and I played young lovers who wore bathing suits all evening. We were young and slender then." Since then, he has developed a respect for the Rattigan writing and was happy to see director Posner shares this same love of language. "He's respectful of the language. The reality of a play like this is that the language is convoluted and delightfully wry and amusing. It needs looking after. It can't be performed in a behavioral way. It needs to be performed almost like a Restoration play."
The father is the single focus and driving force of the play until late in the second act when he is soundly trumped by the very expensive attorney he has hired to represent the family, Sir Robert Morton, the most celebrated barrister in England, who comes to the Winslow home to case the case and quiz the young accused.
The Winslow Boy may not have powdered wigs and gavel bangs, but it does have a crackerjack-good interrogation scene in which Sir Robert savagely rips into Ronnie, to the shock and horror of the rest of the family. And it's capped by a corker of a curtain line—a flip-flop Chorus Line trick ending—that leaves audiences roaring. Critic B.A. Young called it "one of the best coups de theater of modern theater." It's exhibit A for anyone building Mr. Rattigan's case as "the well-crafted playwright."
Alessandro Nivola, who somehow stole an excellently acted New Group revival of A Lie of the Mind, has been entrusted with the Sir Robert role and really goes to town with it—snobby, parsimonious, haughty, unable to hide the fact he's slumming here.
"He's a character with a big surprise," said Mr. Nivola. "Somebody who appears to have a heart of stone when—of course, despite his better judgment—he can't help but find himself emotionally invested in a family that he was determined only to associate himself with for purely idealistic, financial and legal reasons."
The Morton mellowing is easy to track, and it is interesting to see how deeply it goes into the family fold. "I don't think it's any one character's play," said Mr. Nivola. "The beauty of the play—in the same way that Chekhov's plays are—is that all the characters are really fully rounded. The play's about many things, but it's about obsession, really. The father is sort of this paterfamilias in a Victorian sense where he has run the family with great authority, and he nearly runs the family into the ground with his desire to see this thing through to its end."
The model for Sir Robert Morton was the King's Counsel, Sir Edward Carson, who years before had led the ruthless prosecution of Oscar Wilde. He made himself available to Mr. Rattigan during the six-and-a-half weeks it took to write the piece, and it was he who suggested the first title of the play, Ronnie versus Rex, as well as the last.
The part is the pièce de résistance of the whole play—irresistible if you are a member of the audience, not so much if you're the actor playing him. Mr. Rattigan wrote Sir Robert for his friend, John Gielgud, who turned it down but allowed 50 years later he "rather underestimated the quality of Terry's work."
And what of the boy at the center of this cause célèbre? Spencer Davis Milford, who makes his Broadway debut in the title role, said the character is markedly less concerned than his loud and flashy defenders. "It's interesting how the father really drives the play and drives the case, while Ronnie remains oblivious to the whole thing," he said. "He's so naïve about the situation that's going on around him. After it happens, he has totally moved on. The trial doesn't happen until two years later, and, by then, he has forgotten about the Naval College and gotten on with his life. His father is so into the case and wants to clear his name, but Ronnie couldn't care less."
There wasn't much life to get on to for George Archer-Shee. Six years after his trial, the real Winslow boy, age 19, was killed in World War I at the First Battle of Ypres.