Legends pass away, but their New York apartments live on, relics of an age when poets could afford Village townhouses and not-yet-famous painters could swing a Soho loft. Those were the days! Truman Capote's contemporaries thought he was slumming it when he crashed in the 9,000-square-foot, 28-room house his friend owned. (You see, it was only in Brooklyn Heights.) How could those friends have known that a gaming mogul would pay $12.5 million for the place nearly 60 years later? Of course, a lawyer is now living in Andy Warhol's Upper East Side townhouse, while a doctor and her billionaire hedgefunder husband now occupy Jackie O's 5,300 square-foot place. What's it like to sleep in a famous person's former home? Rent Jean-Michel Basquiat's place on AirBnB to find out—or read what the new owners of a handful of historic homes have to say.
Truman Capote's mansion:
70 Willow Street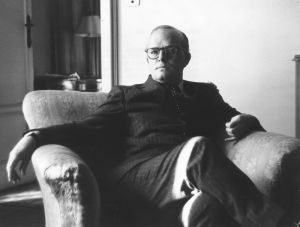 "I live in Brooklyn. By choice," Truman Capote dramatically stated in his essay, "A House on the Heights." Back then, it was a daring choice. It doesn't seem quite as outré today, considering that he lived in a 9,000-square-foot clapboard mansion with 11 fireplaces and a spiral staircase connecting all three floors. Capote liked to tell people he owned 70 Willow Street, but in reality it was bought by his friend, Broadway art director Oliver Smith, in 1953. Capote moved into the basement in 1955. "[Oliver and I] sat on the porch consuming martinis—I urged him to have one more, another. It got to be quite late, he began to see my point; yes, 28 rooms were rather a lot; and yes, it seemed only fair that I should have some of them," Capote later recalled. He stayed there for 10 years, until 1965. The house's veranda—which overlooked the expansive private garden—was one of Capote's favorite places to both entertain and write; it was here he completed Breakfast at Tiffany's, before picking up a copy of the New York Times which reported the brutal slaying of a family in Kansas. He set about writing In Cold Blood the next day.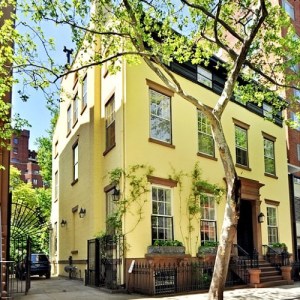 AND NOW… He could have gone to Tiffany's, but instead Rockstar Games co-founder Dan Houser bought the distinctly yellow 11-bedroom mansion for $12.5 million last year. That's the most ever paid for a Brooklyn home—he, too,  must live here by choice. Mr. Houser and his wife, Krystyna, enjoy one of the rarest of New York amenities: a driveway. "It's like living in a country estate in the middle of New York City,"  said Karen Heyman, the Sotheby's broker who sold the property. "It takes your breath away." The double parlor still features many of its original design elements. According to the listing, "Jeffersonian floor-to-ceiling pocket windows and French doors lead to the Federal-style columned veranda," while the 38 windows, facing east, south and west, highlight the library, artist's studio and "interior period detailing." The house also has two eat-in chef's kitchens, so you'll be able to breakfast in a style that would suit Holly Golightly.
Edna St. Vincent Millay's halfway house
75.5 Bedford Sreet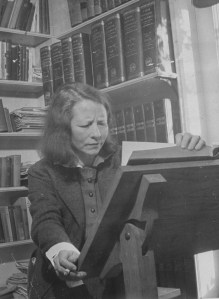 Edna St Vincent Millay burnt the candle at both ends in this three-story house, where she lived from 1923 to 1924. Said to be New York's skinniest house, it didn't stop her from composing poetry that made big waves. Elizabeth Barnett, literary executor of the Millay Society, claims that Millay wrote part of The King's Henchmen there, possibly curled up in front of one of the house's four wood-burning fireplaces, or perhaps outside on the "lower-level retreat," a Town Real Estate term for small back garden. In those days, Millay claimed that writers were "very, very poor and very, very merry.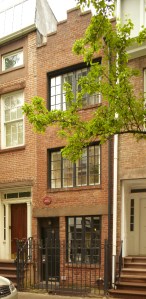 AND NOW… George Gund IV, the son of the San Jose Sharks' owner George Gund III, sleeps in Millay's former bedroom. Back when Millay was there, that room was the attic, but it's been refinished since then. "The house retains its original character and pedigree, there are still original exposed beams," says the new owner, who bought 75.5 Bedford Street three months ago for $3,495,000. So, he may just be very, very merry. Gund, who is a photographer, shares the space with his cousins, medical school students who may not be poetically inclined, but "appreciate the opportunity to live in such a unique home". As for Mr. Gund, he says, "For some time now I have been wanting to own a piece of Manhattan that is historically significant. Not only is this a townhouse dating back to the 1800's, and of a one-of-a-kind dimension, but also, it was the home to those creatives' legends". Because don't forget, Cary Grant lived there (briefly), too.
Andy Warhol's five-story townhouse:
1342 Lexington Avenue, Carnegie Hill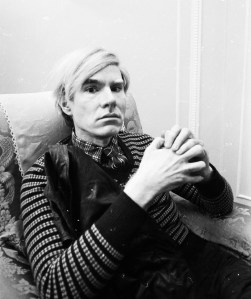 Andy Warhol may be worshipped Downtown, but he lived on the Upper East Side. From 1959 to 1974 he resided in a three- bedroom, 3,072-square-foot townhouse originally designed by architect Henry J. Hardenbergh. He needed the space – he never would have been able to accommodate his mother and 25 cats in a Downtown loft. Here, he created some of his earliest and most influential Pop Art pieces, including his paint-by-number canvases, dollar bills and comic strips. And, if you want to be envious of more than just his artistic talent – he bought the entire townhouse for a mere $60,000.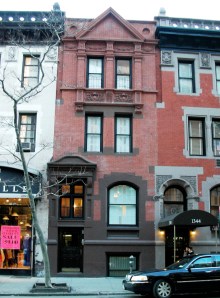 AND NOW… Trial attorney John Ciafone paid $5.5 million just three weeks ago for the privilege of living in Warhol's "beautiful house" with his wife and three children. Although he claimed the artist's name influenced his decision to buy ("I'm a fan, but not a crazy follower"), the fact that he now cooks where the artist once created some of his most iconic works was a surprise. Ciafone had no idea that the previous owners had replaced Warhol's studio with a modern kitchen. "I would have left it the way it was!" he exclaimed. Maybe he can keep it stocked with Campbell's soup.
Basquiat's studio loft:
151 Crosby Street
In 1982, 21-year-old Jean-Michel Basquiat rented a 2,300-square-foot loft with his girlfriend, Suzanne Mallouk. The Brooklyn-born graffiti artist turned neo-expressionist created some of his most iconic works here. Those included his first portfolio of prints titled Anatomy and many of the Basquiat–Warhol collaborations. It was also a space where he'd sometimes let Madonna stay, before she was Madonna. "She was poor, she borrowed Basquiat's apartment while he was in Paris, and so I spent a good hour-and-a-half during the record meeting with her at his place," producer Reggie Lucas recently recalled in Rolling Stone. "He had his art up there, nobody knew who he was."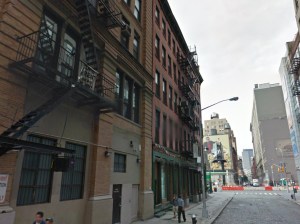 AND NOW… They know who he is now. However, available for rent on Airbnb at $650 a night, the space no longer shows traces of Basquiat's work. Instead, the two-bedroom, fourth-floor walkup, advertised as a "stunning loft in Soho on Crosby Street (THE HIP street in Soho right now)" by a man named Cooper, or M.C. for short, features oil paintings of a cow, which gazes across a round Kartell dining table; a dog, which hangs above a stainless-steel fireplace; and some tree trunks pictured against a garish blood red backdrop. We don't envision Madonna stopping by any time soon, but your visiting friends can, if they love dog pictures.
Jacqueline Onassis's pre-war apartment:
1040 Fifth Avenue, 15th floor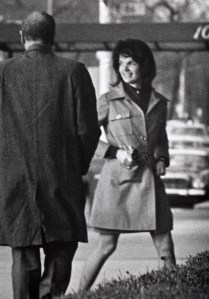 This is the home where Jacqueline Kennedy transformed into Jackie O. In 1964, one year after the death of her husband, President John F. Kennedy, the then-35-year-old fled Washington for the Upper East Side of Manhattan. She moved into this 1920's white-glove pre-war building and began wearing mini-skirts. Dates with Frank Sinatra and Marlon Brando quickly followed. Just across the street from Central Park near 86th Street, and not too far from her sister Lee Radziwill's home and the Convent of the Sacred Heart where Caroline was to attend school, Jackie O paid $200,000 for the 5,300-square-foot apartment, designed by architect legends William Delano and Chester Aldrich. She lived here until her death, and filled the space with books, a piano she could not play and a high-powered telescope she is said to have used to spy on unsuspecting pedestrians.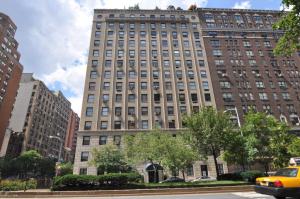 AND NOW…. Billionaire Glenn Dubin, founder of Highbridge Capital Management, and his second wife, Dr. Eva Andersson-Dubin, reside in Onassis' 15th-floor spread. If you visit them, don't expect it to look the way it did when Jackie was there! "Mrs. Onassis was very conservative financially, and she didn't spend much on it," billionaire David Koch, who owned the apartment from 1996 to 2006, told The Observer. "We gutted the apartment and redid everything." Seemingly, that was fine with the Dubins. The couple paid $30 million in 2006 for the five-bedroom, five-and-a-half-bathroom apartment. The apartment contains a library, conservatory, dining room, three fireplaces and two terraces, one of which Mrs. Dubin uses every morning to have "strong coffee and toasted mana bread while reading The New York Times," according to designer Tory Burch's lifestyle blog. There's no word on whether or not he's got a telescope.