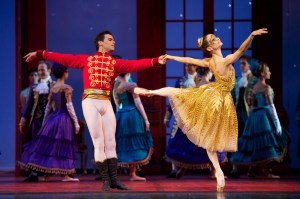 The fairy gods were smiling last week (when they weren't grimacing) as, against all odds, two important choreographers, on consecutive nights, brought their cheeky versions of two of our best-loved fairy tales to town. Are these ballets timeless, like the stories themselves? Far from it. Do I want to see them again? Nope. Do they have virtues? They do, and no surprise, since both Christopher Wheeldon and Matthew Bourne have smarts and audacity. What more do you need? Well …
Wheeldon, creating his Cinderella for the San Francisco Ballet and the Dutch National Ballet, faced the same problem all Cinderella ballets face: the score. It's Prokofiev, and there's too much of it. (The same is true of his Romeo and Juliet—there's more music than is needed, and choreographers have to pad and vamp.) The best version is Ashton's, on view this coming spring season at ABT, which has ravishing passages and effective slapstick (the stepsisters) and is coherent. But it's defeated, finally, by the absence of a satisfying conclusion—the romantic resolution just isn't there in the music. Besides, Cinderella isn't an interesting figure; she's a projection of young girls' fantasies—things happen to her, but she doesn't take action on her own. It doesn't take a lot of gumption to be fitted for a glass slipper. ABT's recent version, by James Kudelka, was dull, duller, dullest, beginning with a first act in which nothing happens except that Cinderella sweeps and sweeps. With luck, it's gone forever.
Wheeldon has swept, too—he's swept away lots of traditional business. Most crucially, he's sidestepped the only tension the story really has, the desperate moments at the ball as the clock ticks toward midnight and Cinderella is about to be unmasked. The tension-filled music is there, but the dance doesn't respond to it. Likewise, we don't get to see the stepsisters being (over)dressed for the ball or being put through their paces by the dancing master. And Cinderella, who in any case isn't seriously oppressed, is protected and succored not by her fairy godmother but by the Fates—four stalwart, masked Nubians who tote her around when they're not busy doing the housework for her. Now there's a girl's fantasy fulfilled!
We do get young Prince Guillaume, first as a mere lad, horsing around with his pal, Benjamin, then as a young man pretending to be a mendicant and being ministered to at the fire by kind Cinderella while her stepfamily is being mean. (They'll live to regret it.) In a flashback, we've had the child Cinderella watering the ground with her tears after seeing her mother die—there's a blood-soaked handkerchief, so it must be TB. And from that tear-stained ground grows a mighty tree that comes to dominate the stage and which—in the ballet's most brilliant coup—is transformed into the carriage that will carry Cinderella to the ball. (This stunning sequence was designed by the virtuoso puppeteer Basil Twist.)
So the Prince has met Cinderella before the ball, spoiling the impact of their first spotting each other there. Clementine, the sweeter of the two sisters, is allowed a romance with Benjamin (the other sister is barely characterized). The father is a man without qualities. The stepmother gets drunk and vomits. (Ha, ha.) These and other variations on the story as we know it are the work of the librettist, playwright Craig Lucas.
The strength of the production lies mostly in the sets and costumes by Julian Crouch. But Wheeldon has also invented some charming passages for the cast, like the lineup of pretenders to the missing gold shoe (not a glass slipper, who knows why?) seated in a long row of chairs downstage. Some of the dances for the Spirits of the four seasons who come to help Cinderella as she prepares for the ball are interesting and amusing pastiche, Wheeldon slyly and affectionately tipping his hat to Ashton's brilliant rendering of these dances. And he has some fun (and we do too) with the foreign princesses—Russian, Spanish, Balinese—brought to the ball to entice the Prince to choose a wife. The waltzes at the ball are sprightly if not highly original, but how do you fill all that ball music?
The rest of the choreography, unfortunately, is pallid, particularly the duets between the lovers—conventional stuff that relies all too heavily on ecstatic lifts, the curse of today's ballets. There should be a law. This leaves the ballet without a heart, and the dancers with not much that's interesting to dance. The first cast was, in the San Francisco way, solid and attractive but without thrills. Maria Kochetkova was a pleasing lyrical Cinderella but not individual enough to make you fall in love. The Prince was a sturdy (perhaps too sturdy) old San Francisco standby, Joan Boada. Frances Chung was a funny and appealing Clementine. Taras Domitro made something fresh and appealing out of Benjamin. But the real stars were Crouch and Twist—and Christopher Wheeldon for unleashing them. And of course the company's exemplary conductor, Martin West.
I hated Matthew Bourne's Swan Lake when it first turned up, and then when it was televised, and then when it returned. Not because of the gay agenda and the gender-bending—all those husky guys as the luckless Swan Queen and her girlfriends—but because of the puerile adolescent angst ("Oh, how I suffer because no one understands my tormented psyche") and the I'm-a-naughty-boy pleasure in distorting a great work of art. But at least it had a highly charged point of view. Bourne's latest, The Sleeping Beauty, has no point of view except its determination to score. The result is a not very provocative hit that doesn't undermine the great Tchaikovsky-Petipa masterpiece so much as fiddle around with it harmlessly before imploding in confusion and dopiness.
The first half—The Prologue and Act One—tell an amusing story, even if it isn't the story's story. The baby Aurora's christening doesn't take place with pageantry and celebration; instead, the six good fairies and the wicked Carabosse swarm into the princess's bedchamber and bestow their gifts and curses in private. (Not having a court scene either here or at the Wedding saves a lot of money in dancers and costumes.) But before that, there has been a prologue to The Prologue—we find out in a flashback that the reason Carabosse is so pissed off isn't just that she hasn't been invited to the Ceremony but that it was she who produced a baby for the King and Queen when they couldn't produce one for themselves. (This is back in 1890, pre-in vitro.)
Bourne gives us a darling puppet baby—a baby with a strong personality, who scampers about the room, climbs the curtains, makes mischief but, of course, is lovable. And this is the same Aurora we next meet when she's 21 at her birthday party: She's cute as a button, a handful, a hoyden, all chugging arms and perky smiles and—who would have thunk it?—rolling around in the rosebushes with young Leo, the Royal Gamekeeper. Since she's already met her man, what's the point of the suitors vying for her hand? No one's going to make this minx marry Sir Right. The scene is a lawn-tennis party at the height of the Edwardian era, and it's furnished with nostalgia and amusing invention—Petipa meets Downton Abbey.
And then: Carabosse's curse! But the poor old witch has died offstage—from an overdose of plot—so that she can be replaced by her son, Caradoc, a hunk from hunkland. There goes the ball game (almost). He's wicked, he's dangerous, he's sexy. No wonder Aurora is mesmerized. She's pricked by a rose (black, not red), she's saved from death by the (male) Lilac Fairy, she falls asleep, and the curtain falls—but not until Count Lilac (note his title) sinks his fangs into Leo's neck so that he too can come back in a hundred years. Sensation!
All this narrative has been handled with a light and pleasant touch, almost letting you forget the original fairy variations (Bourne's take on them has wit and energy) and the Rose Adagio (Margot Fonteyn lived in vain). But the Second Act is a disaster. Now it's all about Good and Evil, basically in disco mode—Caradoc is relentless with his swirling black and red effects and his ruthless snatching of Aurora, whom Leo has revived with a kiss. (Caradoc's kiss didn't do the trick.) But Lilac is on hand to save the day—if there's one thing Bourne likes it's two macho guys wrestling—and Aurora is released from the spell of Caradoc's blatant sexuality and is back where she belongs, in the arms of the true-blue if ingenuous Leo. The vampire caper is forgotten and Princess and Gamekeeper, dressed in today's casual democratic garb—the time is Now—enjoy yet another pas de deux of ecstatic lifts, as a result of which a new adorable puppet baby is born.
Forget the silliness of this part of the plot—why, for instance, a Vision Scene when Aurora and Leo already know each other all too well? Forget the clichéd nature of the big dance numbers and romantic encounters. The Sleeping Beauty will be restored to itself in far less time than 100 years.
Bourne's real crime is one of omission: There's absolutely nothing left of the profound implications of what Tchaikovsky and Petipa created. But the costumes and sets are terrific, some of the plot deviations are amusing, and a lot of the dancing was fine, although Hannah Vassallo's frisky Aurora was too reminiscent of Eloise (of the Plaza) for me. The believable and appealing Chris Trenfield was Leo. Carabosse and Caradoc were both played by a menacing Adam Maskell. (Is this the first time a single performer has impersonated both a mother and her son?) Strong or weak, all the dancing is subordinate to the concept: Matthew Bourne is more a stager than a choreographer.
Better an overcooked Beauty, though, than an undercooked Cinderella.