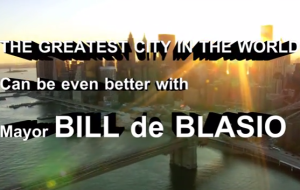 Famed salsa singer Willie Colón is not only in full support of Bill de Blasio, who defeated his chosen candidate in the Democratic mayoral primary, he's recorded a song for Mr. de Blasio as well.
In a new upbeat jingle posted on Mr. Colón's YouTube account this morning, the singer trumpets Mr. de Blasio's support for immigrants, public schools and family values. "Bill, Bill de Blasio!" a chorus repeatedly declares.
Mr. Colón's song is the latest in a series of tunes produced in the final weeks of this year's election cycle. Joe Lhota, Mr. de Blasio's Republican rival, recently rleased a dub-step-based attack ad, while incumbent District Attorney Charles Hynes has his own Reggae jam.
The singer, who supported Mr. de Blasio's rival, Bill Thompson, in the primary, penned several songs on Mr. Thompson's behalf as well, including one that was reportedly viewed nearly a quarter of a million times.
Listen to Mr. Colón's musical praise for Mr. de Blasio below:
[youtube=http://www.youtube.com/watch?v=KJFF9Uc0wfA&w=560&h=315]