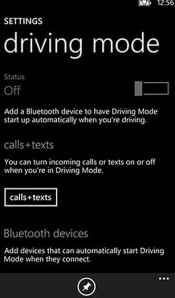 Without texting or snapping, operating a motor vehicle down a highway at 70 miles per hour is pretty boring. What else is there to do aside from be on your phone? Well, the brain trust at Microsoft believes that you should pay attention to the road, so in all three dozen of its Windows phones sold, it's installing a feature that turns off all the useful parts of your phone.
When the phone is set to "Driving Mode" (creative!), the phone will silence calls and texts. It'll also automatically shoot off a message to whoever tries to contact you and tell them you're driving. A key feature that would one expect it to have is blocking outgoing calls and texts, but it won't do that.
And it's totally not at all like Apple's "Do Not Disturb" feature that also limits calls and texts. That has to be turned on manually, which is different than Microsoft's version because its activated automatically, using your car's Bluetooth. Of course, if you find yourself in a perilous situation, there are ways to turn it off, notes Yahoo News.
But, problem: It sounds like the mode is aimed at those who have "put the phone down" nailed:
The feature won't stop a teenager from texting while driving, but it will help reduce distractions for those who want that, says Greg Sullivan, director for Microsoft's Windows Phone business.
Interesting! So now if we can get a similar feature for this noisy teen next to us on our Megabus, we'd be all set.