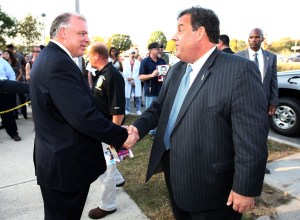 Election Day is Tuesday and the campaigning is almost over, but don't pop the bubbly and kick up the feet just yet.
There's plenty to focus on next week with a gubernatorial race and every legislative district on the November ballot. Like any election, this one has far-reaching consequences that go beyond the simple question of who will hold what office in the coming months.
Here's a list of ten people who have something to prove on Tuesday:
1. Steve Sweeney
The state's top lawmaker has quite the target on him this legislative cycle. As noted by the state's Election Law Enforcement Commission this week, Sweeney's LD 3 is the site of the biggest legislative district spending with candidates shelling out more than $3.1 million through Oct. 28 (and remember, the election isn't even over yet). Sweeney may have been rubbing elbows and posing for pictures with Gov. Chris Christie in the lead-up to the November election, but he won't cross the finish line without first putting up a bunch of cash. To be clear, Sweeney's LD 3 isn't perceived to be one of the state's tightest races, but Republicans are forcing Sweeney to stay on his toes.
In the event Republicans pick up additional seats in New Jersey's upper chamber, Sweeney can't walk away from a district fight battered and bruised. The iron worker needs to come out of Tuesday ready to fight it out on the Senate floor in the event GOP lawmakers make gains and attempt to make a grab for his Senate podium (or, if the positioning is right, force Sweeney to share the Senate presidency with another elected official).
2. Tom Kean Jr.
It's impossible to talk about the state's top Senate lawmaker without mentioning New Jersey's Senate minority leader. Sen. Tom Kean made no secret about gunning for the Senate leadership position after the upcoming election (in fact, he told PolitickerNJ, unequivocally, in October that he will be the state's next Senate president).
But before that can happen Republicans need to pick up a handful of legislative seats, which polling suggests won't happen. It's likely that Kean has more to prove in Tuesday's results than Sweeney.
The relationship between the two men in the lead-up to the election cycle had been icy and things just continued to get worse as the campaign went into full swing (remember, Sweeney's campaign recently mentioned Kean in a complaint when it attempted to freeze the campaign cash of Sweeney's opponent). But between then and now, Kean promised a lot for his members and unless there's a power shake-up in the Senate leadership position, the minority leaders risks alienating his members in the Senate if Sweeney seeks reprisal (see "Sweeney says Kean is acting out of 'desperation'").
3. NJEA
Speaking of elections, one group that is not taking a back seat in the 2013 state elections is, unsurprisingly, the New Jersey Education Association. According to the latest ELEC reports, the NJEA easily beat out other special-interest spending in the state by pumping over $13 million in statewide elections. The group's super PAC, Garden State Forward, is infusing serious capital into district races and it's time to see whether the move will pay off.
4. Cory Booker
It's true that the newly minted U.S. senator doesn't have to worry about his own election for another year (of course, fundraising for the next campaign never stops), but Sen. Cory Booker has shown he's invested in Northern Jersey – particularly Bergen County. It's in Bergen where state Sen. Bob Gordon (D-38) is fighting a competitive race to hold onto his seat in the upper chamber against Republican Oradell attorney Fernando Alonso.
If Booker wants to shore up his Bergen base, Democrats have to hang on to their seats.
5. Linda Greenstein
Speaking of holding onto seats, enter state Sen. Linda Greenstein (D-14).
The lawmaker isn't a novice when it comes to fighting for a hotly contested elected position. Of course, what LD 14 pol could be unaccustomed to running a hard race? However, if Greenstein successfully staves off a challenge from a legitimate brand name, former Republican state Sen. Peter Inverso, then she really strengthens her position as being one of the best retail campaigners in state politics. Linda Greenstein is no joke, and neither is Peter Inverso.
The Democratic incumbent can prove with a win Tuesday that she has what it takes to fight a good fight. And what then: A run for Congress perhaps? If U.S. Rep. Rush Holt were to decide to step aside, a battle tested and approved Greenstein could be a likely Washington office seeker.
6. Kevin McCabe
The chairman of the Middlesex County Democratic Organization hasn't been in the role for even six months yet, but he has a big test ahead of him. Before the Middlesex County Democrats can prove they're back in power, they need to build from the foundation.
McCabe is looking to scare Republicans away from LD18 once and for all.
7. John Currie
Any discussion of chairmen hoping to make gains on Election Day in local races can't be had without bringing up the name John Currie. Currie, who was tapped in June to serve as chairman of the Democratic state party, is fighting his own battle in Passaic County.
Somewhat similar to McCabe's situation, Currie is fighting to ensure he doesn't lose any power from the foundation. In Passaic, Currie is working to keep Republicans at bay. If successful, Currie will be in a better position to dictate his own political future.
8. Chris Christie
While political futures are never ironclad and usually are subject to change, Gov. Chris Christie's re-election team, needless to say, probably feels pretty confident the governor will coast to victory on Tuesday. It's no secret that Christie's team thinks a strong win next week by a Republican governor in a blue state could play well on the national stage with an eye toward 2016, and polls suggest a solid double-digit win in New Jersey just may happen. However, it doesn't mean Christie won't have anything to prove.
Any candidate seeking elected office will tell you they're focused on garnering every constituent's vote. The governor is no different. While on the campaign trail the incumbent has repeatedly told reporters he's focused on courting all of the constituency. But Christie's attention to New Jersey's Latino community shouldn't be dismissed as routine campaigning.
The governor, who received the endorsement of the Latino Leadership Alliance, has given special attention to the Latino community while in office and on the campaign trail (including his campaign events in the days leading up to the election and time he spent in Union City with Democratic Mayor Brian Stack). High Latino vote totals will show Christie can play to the group that's both influential on the national stage and growing.
9. Michael Muller
Focusing back on the state level, some attention should be given to the people behind the scenes, including the man who counsels the state's Democratic legislative majorities. Sure, the state's popular Republican governor may command a significant win over his Democratic opponent, but will he have coattails? It's the question everyone has been asking and, if you're looking at the polls, the answer is probably no.
However, Democrats shouldn't take anything for granted if they want to maintain the majority of both chambers.
10. Jeff Van Drew
Finally, the South Jersey state senator who, according to polls, is poised to be re-elected to office in a battleground district has good reason to hope for a decisive win on Tuesday.
Attorney Bill Hughes Jr. just announced he's pursing the Democratic nomination to run for Congress against GOP incumbent U.S. Rep. Frank LoBiondo (R-2), but he'll have to first go through a primary. Would a decisive win in an election where Christie tops the ticket in an already competitive district give state Sen. Jeff Van Drew (D-1) battle-tested bona fides? We think so.