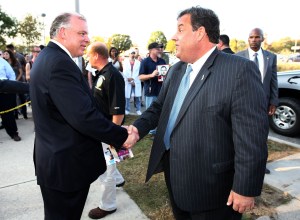 Not to jump the gun too early, but let's take a look at a dozen people who could be in a good position to succeed Gov. Chris Christie as the incumbent looks to take a second term in office.
Here's PolitickerNJ's list:
Steve Sweeney
The Senate president has much to feel good about following the election. Democrats in his chamber held on to their seats and a Democratic assemblyman is moving to the upper house to fill the seat vacated by Sen. Barbara Buono. The Democratic Party did well in an election that, as he puts it himself, was amidst a "tidal wave" of a gubernatorial race. Whereas Senate Republicans fought it out to determine who would lead them in the coming legislative sessions, it was inside the Democratic caucus where all things went smoothly for Sweeney as Democrats united behind him unanimously to serve another term as Senate president.
In short, Sweeney feels good at the moment and a post-election circuit sit-down with reporters following Tuesday's election is only further evidence of the fact that Steve Sweeney will be working even more diligently than before to expand his name recognition with both eyes on the governor's office.
Steve Fulop
The newly elected Jersey City mayor went up against some pretty big odds when he shook up the JC establishment and the energized mayor hasn't slowed since. Like Sweeney, Fulop has maintained a post-election circuit that, for Fulop, centers on building from the county establishment up. Fulop's making a point to visit with county chairs on a regular basis and has been a regular speech giver at county events.
What's more is the new mayor tapped former Gov. Jim McGreevey to serve as a staffer and adviser. The former governor may be staying away from elected office, but that doesn't mean his political mind and savviness has diminished.
Cory Booker
If the Democratic Party can't resolve a collision between Sweeney and Fulop, north and south, there's a possibility to call on U.S. Sen. Cory Booker to return to the state from the Senate. Sure, it's probably unlikely. Booker may settle into D.C. and find he likes it, but there's always the possibility that he wants to be an executive (which he seriously mulled) and that he could be persuaded to come back in and unite a party split between Sweeney and Fulop.
Kim Guadagno
The lieutenant governor made the decision to stick with Christie instead of backing away from politics after years of being second in command behind a man who has the national news media at his beck and call. Guadagno has been a good spirit about being a backdrop to Christie's tenure (she's even poked fun at herself here and there, including at the Jersey Statehouse press corps' annual correspondents dinner) and it's possible she stuck it through for a second term because she senses Christie's national ambitions could change her role in the second term.
Tom Kean Jr.
Hot on the heels of a not-so-tiny victory this week, the Senate Minority Leader found himself in a precarious situation and came out a winner.
Let's recap. Kean did no favors for himself when his ambitious plan to take control of the Senate fell flat. And we mean flat. Kean overplayed when he attempted to go for more legislative districts than he could manage. The governor's team opposed his battle strategy when they saw he was putting resources in districts he likely couldn't win, and other Republicans grumbled about him not speaking up when Christie, GOP insiders say, fell short of giving the down ballot races the attention they deserved. Kean lost and Sweeney did a victory lap.
But not so fast. The minority leader dug in his heels when Christie gave the order to step aside and, wait for it, he won. Kean won in a battle of sorts with the state's Republican governor who, up to this point, had GOP lawmakers in lockstep with his marching orders. Kean's supporters within the caucus recognized the minority leader's hard work and commitment to the district races where some felt abandoned by Christie.
John Crowley
The former Navy intelligence officer turned biotech millionaire has a good story and was rumored in the past to have mulled a bid for U.S. Senate or even governor. After not throwing his hat in the ring, Crowley's name quieted down on inner circles. However, he still has money and is the kind of guy who could excite Republicans.
Runners-up:
Lou Greenwald
If Sweeney somehow doesn't run for governor, the Assembly majority leader will almost certainly be a South Jersey runner-up. Recently, the South Jersey assemblyman has commented on Bergen County races, which is a sign he's putting his hands on Bergen County. Greenwald is expanding his brand, which could play well for the governor's seat if Sweeney sets his sights on another elected office position.
Jon Bramnick
The assemblyman appears to be gearing up to challenge Booker in the Senate. If he does better than the last two Republicans did in the race, he will put himself in a better position to run for higher office in New Jersey. Of course, he's the district mate of Kean, so much of what he does depends on what Kean is going to do.
Rush Holt or Frank Pallone
The congressmen ran for Senate and got, well, destroyed. But, that was against Booker, so they have to figure if they are tasked with less of a rock star challenger in the fight for the governor's seat and whether one may fare better.
Jay Webber or Mike Doherty
Struggling to get around each other to represent the party's conservative wing, maybe one will run for Senate and the other for governor – they'll have to hash it out. Nonetheless, the state assemblyman and senator have a core constituency in the state that U.S. Senate hopeful Steve Lonegan realized is, despite a loss, no insignificant force.