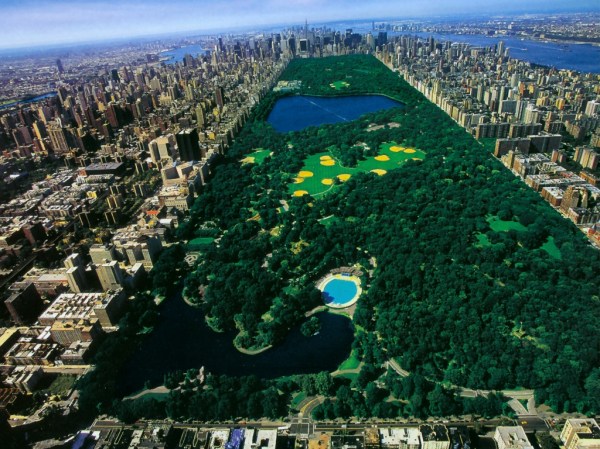 The political divide that runs down the middle of Central Park, dividing the very blue Upper West Side from the very red Upper East is considered as unyielding and insuperable as the Berlin Wall. During the last presidential election, the top two fundraising zip codes for both Barack Obama and Mitt Romney were on the Upper West Side (10024) and Upper East Side (10021) respectively, an ideological division that has held fast all these years despite all that is shared between the fabulously wealthy residents who live in the sprawling, pre-war co-ops lining either side of the Park.
However, as the results of the most recent mayor's race reveal, the political leanings of the East and West sides are not as uniform as they seem at first blush—in fact, during an analysis of The New York Times' election district results, The Observer discovered that there are some surprising bastions of conservatism in a few of Central Park West's most storied buildings (alas, no corresponding pockets of liberalism can be found in the posh precincts that radiate out from Fifth Avenue).
Among the biggest surprises, residents of Trump International favored Joe Lhota by a landslide (ok, maybe not so surprising)—or was it the masters of the universe at 15 Central West who were crazy about the Republican contender? In any event, both Trump International and 15 CPW bled red, not blue, with 84.6 percent voting for Lhota in the tiny election district whose residential population encompasses just the two luxury towers. Despite 15 CPW's star-studded reputation, it appears that the famously left-leaning Hollywood influence didn't have much effect on the building's residents (apparently, their conservative tastes extend beyond architecture).
Residents of the Majestic were similarly unmoved by the neighborhood's political preferences—the triangle-shaped district in which they are by far the largest residence lavished Lhota with 52.5 percent of the vote. We hope it didn't cause any disputes with the neighboring Dakota. But then, the Dakota was largely at war with itself, favoring de Blasio by a small margin (the vote was split almost evenly, 49.7 percent to 47.3) in the election district it had all to itself. And to think that the famous co-op was once the home of "give peace a chance" and "no religion" super-hippie John Lennon. At least we know how longtime resident Lauren Bacall voted. The star once declared that "Being a liberal is the best thing on earth you can be. You are welcoming to everyone when you're a liberal. You do not have a small mind… I'm total, total, total liberal and proud of it. I'm a total Democrat. I'm anti-Republican. And it's only fair that you know it. I'm liberal… The 'L' word!"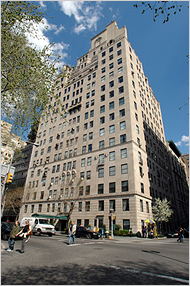 Meanwhile, despite developer Stephen Ross's unwavering support of Mitt Romney, residents of the Time Warner Center were unswayed by Lhota, and their district voted 56.2 percent in favor of de Blasio.
The rest of the residents along the western edge of the Park fell in line with the party line. The area around the Society for Ethical Culture shaded a particularly dark blue (shocker!) and de Blasio is more and more popular as one goes north. Indeed, Emery Roth's Art Deco co-ops illustrate the shift perfectly, from the right-wing Majestic on 71st, to the moderately liberal San Remo on 74th to the more vehemently left-leaning Beresford (81st) and El Dorado (90th).
Central Park South, on the other hand, embraces mild conservatism, that is, the small number of CPS residents who are actually registered to vote in New York City embrace mild conservation. The Ritz Carlton and the Plaza, those former hotels whose condo components are now owned by those who use them almost exclusively as pied-a-terres, belong to a district that favored Lhota (52.7 percent), a preference shared by the skeleton crew who list Essex or Hampshire houses as their primary residence.
But the Pierre, which has most things in common with its CPS neighbors, sits in a district that voted 69.7 percent in favor of Lhota. The rest of the park-adjacent Upper East Side also stayed true to form, with even 1040 Fifth Avenue, the former home of beloved Democrat Jackie Kennedy Onassis, occupying a big chunk of a district that cast 60.7 percent of their ballots for Lhota. As for 740 Park, resident ultra-conservative David Koch has some like-minded neighbors: the non plus ultra of co-ops' district is a deep shade of red, with 78.4 percent voting for Lhota. We suppose that a building said to house more billionaires than any other in New York City might have some issues with de Blasio's plan to raise taxes on those making over $500,000 a year.
On the bright side, the mayor elect has pledged not to raise property taxes, so owners of the city's most valuable residential real estate can continue to enjoy their park side homes at no additional cost. And as divided though their political opinions may be, at least both the East and West sides can agree on one thing—with the exception of that show off John "$100 million" Paulson, they're terrible at chipping in for Central Park's maintenance.