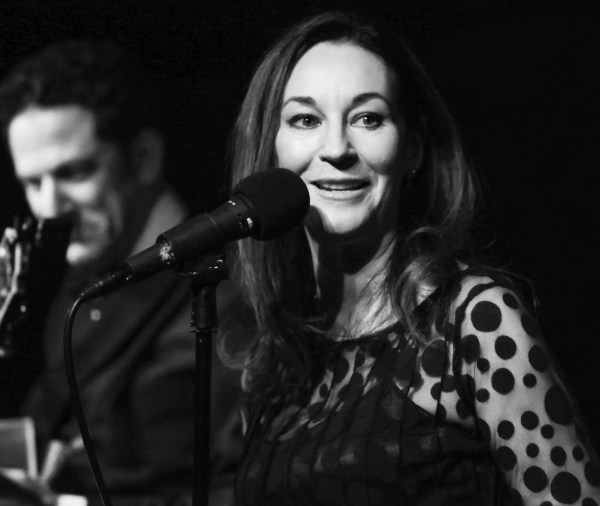 Partners on and off the stage, sublime jazz guitarist and cello-mellow crooner John Pizzarelli and his cool, unruffled other half, singer Jessica Molaskey, are churning things up for the seventh standout season at the Café Carlyle. They are terrific, but I wish the hokey titles hammered into the ads of cabaret shows would cease and desist. This show is called Children and Art, which turns out to be something of a gimmick, since the repertoire is not really about either. Mr. Pizzarelli and Ms. Molaskey have been married 15 years and have two children, so they know something about juggling busy schedules to accommodate music and parenthood. And they stretch the point to include a couple of Sondheim offerings—"Children Will Listen," the poignant ballad from Into the Woods, and "Finishing the Hat," about painting a canvas from Sunday in the Park With George. Otherwise, the show, clever and entertaining as it is, labors to live up to the title. This is the cabaret business. Like the cheesy strippers in Gypsy, you gotta have a gimmick.
I'm not grousing. Whatever absurd label the Pizzarellis want to slap on their shows is ginger peachy with me. They're fun. They're musically challenging and entertaining as a couple of tap-dancing penguins. They're the best (only?) husband-wife jazz team since Jackie Cain and Roy Kral, who got there first and made historic inroads into the jazz vocabulary. But that was then, and this is now. Today, in a world of mediocrity that passes itself off as music, they're the real deal. Blending their voices like two butterflies in mid-air, flirting but never crash-landing into a zinnia, they combine the finest phrases of Irving Berlin's "The Best Things Happen While You're Dancing" with the provocative lyrics of "Nice Girls Don't Stay For Breakfast," which Bobby Troup wrote for his wife, Julie London—and you can't imagine how well they percolate. Folding the old Harry Warren-Al Dubin evergreen "I Only Have Eyes For You" into a tender reading of the great Cy Coleman-Carolyn Leigh classic "It Amazes Me," and no better way of expressing the longevity of romance has ever been expressed.
Mr. Pizzarelli's sandbox has always been the world of jazz, where he learned the ropes at the knee of his father, the legendary guitarist Bucky Pizzarelli. He adorns his strumming with a voice that reaches the high notes as softly as a caress, reminding me of Chet Baker on a good night. Ms. Molaskey's playpen has always been Broadway scores and pop charts, doing justice to more contemporary works by James Taylor, Joni Mitchell and Adam Guettel. She does not remind me of Chet Baker, although various misguided critics have compared her to him, as well as Peggy Lee and Chris Connor—none of whom she remotely sounds like. But she can sing just about anything—and act, too. Racing through the tongue-twisting vocal gymnastics of a terrified bride in "(I'm Not) Getting Married Today" without sacrificing one hilarious joke, you realize what a polished comedienne she can be.
They're swinging and smart. Polished and assured, they promise surprises and never fail to deliver. I always leave their shows exhilarated, anxious to see what they'll do next. Did I mention John Pizzarelli and Jessica Molaskey are also wonderful? But don't just take my word for it. They're at the swanky Café Carlyle through Nov. 23. Go, and find out for yourself.