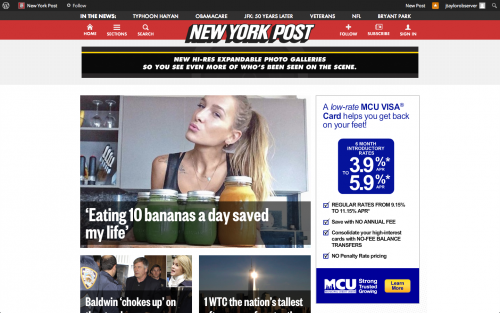 It must be a slow news day for the New York Post, whose featured story as of 2:30 p.m. today is an 1100-word profile of a woman who only eats fruit.
Here's a quick run-down of the story that's eclipsing all other local news today: A young woman was really sick from her partying lifestyle and crappy eating habits, so she adopted a diet that basically only lets her eat whole, fresh fruits and vegetables. She takes lots of photos of her food and her now-slimmed-down body and puts them on Instagram. Sometimes, she even makes duck faces and poses with green-colored smoothies. It's all pretty riveting stuff.
It's great to know that eating ten bananas for breakfast and five mangoes for lunch will cure any skin problems we ever dreamed of having. But the story, titled "Eating 10 bananas a day saved my life," seems to have beaten out 1 World Trade Center and President Bill Clinton's remarks on Obamacare for the number one spot on the Post's homepage.
Additionally, the article wasn't even written by a New York Post staffer. It was reblogged from news.com.au, another News Corp. asset.