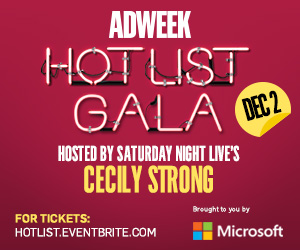 This year, Adweek, the industry weekly, has decided to take its 34-year-old Hot List franchise and turn it into a gala event. 
In the past, the December issue profiled the winners after announcing them on the website. 
This year, the magazine has upped the drama. Instead of waiting until the copies hit newsstands or refreshing a browser, the issue will be embargoed and the winners unveiled on Dec. 2 at a glitzy awards ceremony hosted by Saturday Night Live's "Weekend Update" anchor Cecily Strong.  
"The thing about the hot list is we've always wanted to sort of grow this thing to a much more multilayered and sophisticated program," Editor in Chief Jim Cooper told OTR. "We blew it up in the relaunch to cover print, digital and television. So we really try to cover the entire ecosystem of our coverage area with this franchise." 
Many media outlets have been pushing into the lucrative event space, also called "theatrical journalism" by one Tina Brown. But money wasn't the only reason to attach a party to the awards, publisher Suzan Gursoy told OTR. Who doesn't like a party? 
"When we started looking at how big hot list had become since we relaunched, Jim and I were like, 'My God, just on the finalists alone, if we got everybody in the room and celebrated them, that is one big party, and we should do it,'" she said.
Since the finalists need to spend upwards of $5,000 per table just to find out if they've won, there has been chatter about whether attending is worth the investment. While winning isn't tied to attendance, few media organizations are willing to risk missing out: Tables are almost all sold out. 
"We've exceeded our expectations, and we're just trying to figure out how to get more tables in the room at this point," Ms. Gursoy told OTR. "We got a tremendous response, incredible. We did not expect to have this much support from the media community."
Apparently, there are still some media types who are willing to pay for drinks.