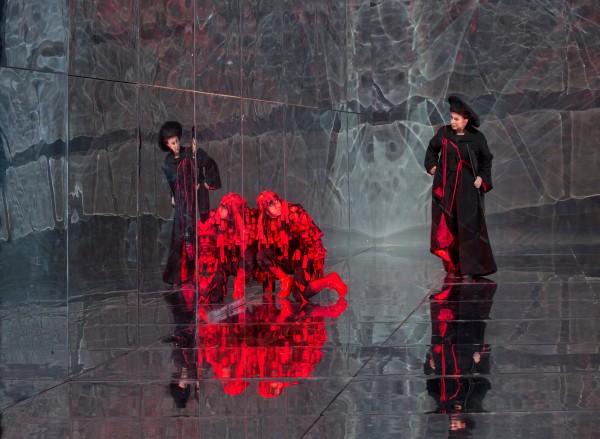 Opera isn't all about the music: On the most basic level, it's a grotesquely expensive form of entertainment. When people drop a half a grand for a pair of only pretty good seats at the Met, never mind parking and dinner and getting the suit pressed, they want some visual bang for their buck. So opera needs to look expensive: if not necessarily columns and velvet drapes and silk hoop skirts, then at least an eye-popping shiny object.
Two productions currently at the Met—Rigoletto from last season done a la Rat Pack Las Vegas and a 2001 staging of Strauss's Die Frau ohne Schatten (The Woman without a Shadow)—really deliver the glitz, so much so that my retinas are only now starting to cool off. But only the older show manages to make the razzle-dazzle meaningful.
This revival of Die Frau ohne Schatten represents the Met at its peak: Every element melds into an overwhelming artistic experience. It's how you dream opera ought to be. The Woman without a Shadow even feels like a dream or rather a nightmare one might have dozing off while cramming for a final exam on Advanced Jungian Analysis. The title character is the daughter of the god Keikobad, who has shed part of her divine status to marry the mortal Emperor. But as yet she is not quite human enough cast a shadow or, more importantly, to conceive and become pregnant. What's worse, unless she gains that shadow immediately, the Emperor will be turned to stone.
Her scheming servant, the Nurse, connives to steal a shadow from the dissatisfied wife of the good-natured laborer Barak, promising the woman wealth and sexual pleasure with beautiful young men if only she will sacrifice her ability to bear children.
When the Wife agrees, in a moment of anger, to give up her shadow, the Empress must decide whether to accept it and save the Emperor's life, at the cost of dooming Barak and his wife to childlessness. She makes the unselfish choice, and suddenly she casts a shadow. The opera ends with voices of unborn children rejoicing that the Empress and the Wife have proven themselves worthy of becoming mothers.
Such a jumble of symbolism permits a variety of interpretations, and the late director Herbert Wernicke veered away from the obvious "pro-life" angle and toward a more openly political approach. In an interview published at the time of the production's premiere, he declared, "The shiny, mysterious realm of spirits and the poor, low-class world of the Dyer, Barak—that's just like New York's lofty Central Park West apartments, in their harsh contrast to the underworld of poor people and outcasts and the subways, where the homeless fight over leftovers with the rats."
In practical terms, Wernicke created two enormous spaces for the contrasting worlds, the interior of a four-story-tall, mirrored cube for the spirit world and a grimily realistic industrial loft that rises up from the basement for Barak's dwelling. That giant cube facilitates some mind-bending effects: Multiple images of the performers move up and down, forward and back, and at times, the ethereal Empress seems literally to float above the ground.
The breathtaking visuals are matched and at times even outshone by a sumptuous musical performance of Strauss's massive, daunting score.  Vladimir Jurowski's conducting infused the more than three hours of music with a brisk, nervous fervor, keeping the orchestra sounding lean without sacrificing thundering impact.
The breakout star of the night was Christine Goerke as Barak's wife, tirelessly flinging out spiky vocal lines ranging from high C down more than two octaves to an earthy low F. She softened the harsh lines of the character—a hybrid of Elektra and Martha from Who's Afraid of Virginia Woolf—playing instead more modern notions of what might make a woman sex-averse: fear of commitment and body image issues. This astonishing performance of an all but unsingable role marks Ms. Goerke as a major dramatic soprano; the Met is blessed to have her on board.
In contrasting glory, debuting soprano Anne Schwanewilms fascinated as the Empress with a cool, flutelike voice—not a huge sound but with an eerie, haunting shimmer in the character's extremely high tessitura. Even more effective was her elusive stage presence. She never walked but danced, and her expressions always looked distant and enigmatic, more like an elaborately crafted mask than a human face.
Next to her, Torsten Kerl's Emperor came off a bit stodgy, but his compact tenor coped flawlessly with the part's many high notes. Less distinctive was Johan Reuter as Barak, a well-placed but generic baritone, and opposite Ms. Goerke's ferociously acted Wife, he seemed not so much good-natured as downright wimpy.
The only real disappointment among the singers was Ildikó Komlósi as the Nurse, her soft-grained mezzo and gregarious persona transforming what should be a Mrs. Danvers type into more of an Auntie Mame. It's too bad she couldn't borrow a little vocal steel from countertenor Andrey Nemzer, who, in his Met debut, galvanized attention in the short but high-lying lines of the Guardian of the Threshold.
Even more aggressively illuminated is Rigoletto. Whereas Die Frau tantalizes with reflected light, Michael Mayer's production of the Verdi masterpiece is decked out in acid-toned neon. This tangle of phosphorescent tubes is intended to evoke the opera's updated venue—1960s Las Vegas instead of the libretto's 1600s Mantua—but it's mostly at war with a somber story.
It's not the only important point flubbed in this production, in which, for example, a professional hit man advises that the most convenient place in Las Vegas to dispose of a corpse is a river.
No use quibbling, though: Mr. Mayer's staging is likely to be around for at least another decade, so the best hope we have is performers who can make the Vegas shtick work. And this season's cast comes closer than any of the principals who premiered the production last season.
Tenor Matthew Polenzani adds an impressive new notch to his long Met career as the Duke, here a mobbed-up lounge singer. He's not so much the hair-trigger Sinatra type the concept calls for as a big, amiable sensualist whose foreplay ritual includes a snort of amyl nitrate. The voice was big and bright, shading down to ravishing pianissimo head tones but never sounding fussy or affected.
In a promising debut, Russian soprano Irina Lungu sang a lyrical Gilda, her middle voice pulsing with a warm vibrato. An unwritten high E-flat rang out brilliantly—more brilliantly, in fact, than the score's more plentiful written As and Bs. Slim, with a lovely oval face, Ms. Lungu found real pathos in the opera's tragic finale.
Another debuting artist, conductor Pablo Heras-Casado, didn't—as many young maestros do—show off with lightning-fast tempos or unconventional sonorities. Instead, he kept the opera moving at a dignified pace with plenty of room for the singers' phrasing.
Best of all—in most ways—was Dmitri Hvorostovsky in the title role, combining smoldering intensity, aristocratic phrasing and a compelling sense of the grotesque to portray the embittered hunchback Rigoletto. One of opera's sexiest hunks, he managed to morph into a shabby, balding man in late middle age, his face contorted into the dead-eyed smirk of the third-rate comedian.
All that was missing—and it's a big "all"—was voice: His dark granite baritone sounded diffuse and unresonant. Whether the cause for this vocal distress was illness, allergies, fatigue or bad choice of role, it was heartbreaking, because in every other way, Mr. Hvorostovsky is a Rigoletto to die for.
He can even make you believe Verdi belongs on the Vegas Strip.