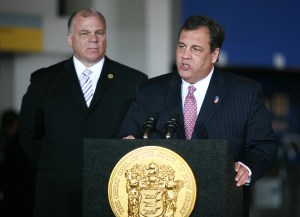 ATLANTIC CITY – Senate President Steve Sweeney is intent on sending a New Jersey DREAM Act to Gov. Chris Christie's desk.
Sweeney shared a moment tonight with his Assembly counterpart to be, Speaker-elect Vincent Prieto (D-32), during an event hosted by Assembly Majority Leader Louis Greenwald (D-6). When prodded to discuss any upcoming legislative agendas between the two leaders, both men agreed in-state tuition for undocumented students is one of the Democratic-controlled Legislature's top priorities.
"It's a priority for both of us," said Sweeney, whose chamber recently passed a version of the bill – referred to nationally as the DREAM Act – that included measures for both in-state tuition for undocumented immigrants and the ability to receive financial aid.
During the same event, Democratic insiders told PolitickerNJ they thought Christie was backing away from supporting the measure, or at least supporting the bill in its current form, in an effort to appeal to Republicans on the national stage.
Christie indicated ahead of the recent gubernatorial election that he would support the DREAM Act, though he has yet to indicate what form of the proposal he would sign.
However, Senate Republicans opposed the measure from leaving committee and voted against it on the Senate floor – indicating a question is brewing within the Garden State GOP over whether the bill will be supported in its current form.
"The bill that we passed has been on the agenda since June," responded Sweeney when asked whether he thought Christie would oppose the bill based on Republican opposition in the Senate.
"There's nothing new about the bill," he said, referring to the fact that Christie mentioned his support for the DREAM Act well after the bill was posted in the Senate.
"All that matters is that we agree," he said, throwing an arm around Prieto.
The same bill has yet to move through the Assembly, though Prieto affirmed his support for the Senate version of the proposal.
"We want to be able to get a bill [out of the chamber] that is identical to the Senate version," Prieto said.
Christie announced his support for the DREAM Act in October – just weeks ahead of the November election. The announcement was a reversal from his position in 2011 in which he said he would veto the measure.