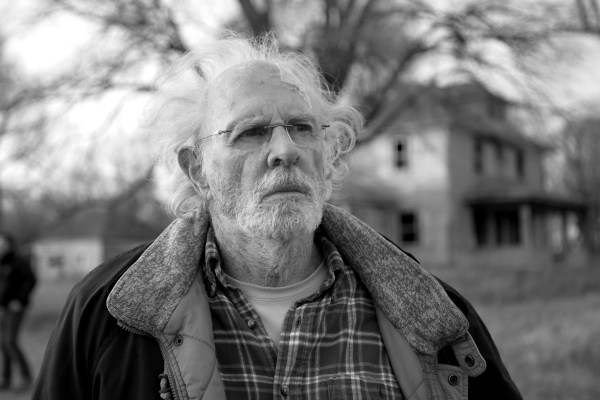 In today's frenzied atmosphere of zombies, vampires and people floating aimlessly through outer space, the deceptive simplicity of Alexander Payne's Nebraska, the measured pace and the fact that it was filmed in glorious black-and-white, are possible reasons why it might not be every moviegoer's cinematic bromide. But woe be the fool who misses it. Bruce Dern won the Best Actor award at this year's Cannes Film Festival, and it's easy to see why. As Woody Grant, a grizzled vestige of a fading era of calloused, pioneer American spirit that has all but vanished, he is focused, three-dimensional, fully realized and mesmerizing.
When first seen, Woody is an old codger from Billings, Mont., hobbling down the interstate on foot, who tells the cop who stops him that he is not only not a homeless vagrant, but he's on his way to Lincoln, Neb., to collect a million-dollar sweepstakes prize advertised in a mail coupon. His son David (Will Forte) tries to explain, to no avail, that it's a mail-in fraud to sell magazine subscriptions, but the old man has a stubborn resolve as hard as concrete, so to avoid picking him up on street corners and bar stools, the young man decides to drive his dad all the way to Nebraska himself. David, an underachiever who sells electronics, and his more successful older brother, Ross (Bob Odenkirk), a Billings TV news reporter, have nothing in common, but they share a fondness for their dad that has never been warmly reciprocated, in addition to a growing concern about his advancing dementia. In a fabulous, understated, carefully nuanced performance as the old man's exasperated, long-suffering wife, Kate, June Squibb shows up on the road trip to add the voice of reason and rant to the soft-hearted men in her life. With tart-tongued sarcasm, she steals the picture.
In one of the few Payne films written by somebody else (in this case, the poignant, carefully modulated script is by Bob Nelson), the director loses none of his trademark sympathy for the little people in the human stain, prominent in triumphs like Election, Citizen Ruth and Sideways. (He only temporarily derailed in his sentimental, soporific George Clooney disappointment The Descendants.) Almost every scene is magically informed by the stoic seniority of Mr. Dern. An accident in a drunken fall causes him to lose his false teeth on a railroad track, while a detour to see Mount Rushmore furnishes some unexpected cracker barrel wisdom that is both revealing and wry. A ghastly weekend in a dried-up hick town where Woody used to own a garage leads to a reunion with an old girlfriend, and an overnight stay at the tacky house of relatives who see a chance to cash in on some of Woody's money says a lot about the American hypocrisy of family ties.
Through Wyoming and South Dakota, Phedon Papamichael's camera paints a moving portrait of the barren ugliness of the changing landscape of the American grain belt, with its empty fields, shingle houses and dying mom-and-pop businesses decimated by the economy. And Mr. Nelson's observant, detailed script flawlessly captures the mood of what American ennui has done to both old and young men on their way to becoming losers, lending a look and feel that seems like the Great Depression. Woody has reached the point where dreams are dead, the mind cobbles and the apple won't bite. Mr. Dern plays him as one of the leftover people—no past, no sense of belonging and feelings long buried that ache to resurface. When his son asks, in a moment of candor, "Did you ever love Mom?" Woody says, "It never came up." He drinks because he doesn't know what else to do. In one of the year's most memorable characterizations, Mr. Dern is the most plausible old tree root—implacable and etched in rye whiskey—since Richard Farnsworth rode that lawn mower across the country in The Straight Story.
Eons removed from his comic turns on Saturday Night Live, Will Forte is a wonderful son and travel companion—indulging the old man's whims, doing what he can to show affection and hiding the fact that he craves the same in return—and Ms. Squibb is hilarious as the dyspeptic, no-nonsense family matriarch. The movie is wrenchingly slow—you know from the start that nothing is ever going to happen—but Nebraska has a charm that grows on you like a lichen, a wicked sense of humor that makes you laugh in spite of yourself, a concealed heart soft as a Hostess Twinkie, and a generous, welcome respect for the basic decency of the human race, more valuable than any lottery ticket.
NEBRASKA
WRITTEN BY: Bob Nelson
DIRECTED BY: Alexander Payne
STARRING: Bruce Dern, Will Forte and June Squibb
RUNNING TIME: 115 min.
RATING: 3.5/4