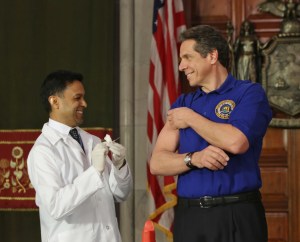 The Empire State can bring the sexiness, Gov. Andrew Cuomo says.
Asked today about being named "sexiest 55-year-old" by People magazine today, Mr. Cuomo humbly said it was more about New York than him personally.
"Well!" began the governor, fielding questions from reporters during an unrelated conference call. "It was flattering to me … I think it was for my age, by the way–that was the qualifier. So I had a limited scope of competition."
Mr. Cuomo quickly pivoted to the State of New York. 
"I think it's about New York. I think New York is sexy. And since I'm the New York governor, that's–that's how it got there," he explained.
Three years ago, Mr. Cuomo was also named one of People's sexiest men. At the time, he was less humble about it, however.
"A lot of it's just natural," he told The New York Times. "It's genetic sculpting."