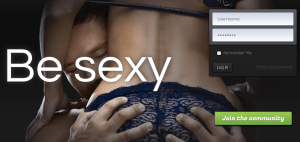 The Internet is good for a lot of things, but at the top of the list are weird sex and procrastination. A new social network for randy fetishists that combines the time-wasting capabilities of Facebook and the myriad sex offerings of your favorite porn site seems like a no-brainer.
With a moniker pulled straight from the bowels of startup-naming hell, Nauti Ninja promises to serve up a social network full of people who are open-minded and kinky. "Escape the limitations of vanilla dating when your [sic] much more wildly expressive than that," the site counsels.
Nauti Ninja hosts "singles, swingers, fetishists and more," says the site. "This is flirty sex positive dating and a naughty social network."
CEO Cory Irish believes people are getting kinkier and kinkier as the few remaining stigmas surrounding non-vanilla sex fall away one by one, according to XBiz. But, we imagine, it's tough to find someone who's cool with your particular fetish, be it furryism or BDSM, on the casual dating scene.
"There still remains a big question of where you can find people who are looking for the same thing," Irish says via XBiz. "We want to bridge that gap and encourage free sexual expression and acceptance of who we naturally are while appreciating the diversity in everyone and having fun doing it. That's what is perfectly normal."
Yes, safe and consensual sex, no matter the kink, is fun and healthy. We hope for the sake of the site's 700 registered users, though, that the majority of members aren't just sweaty old men jonesing to sniff some 19-year-old's used panty hose.