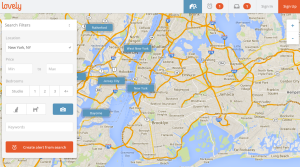 Find your apartment finder Scrolling through disgusting and/or terrifying Craigslist apartment ads has become an unfortunate initiation ritual for NYC newcomers. But just in case you're maybe, sort of, kinda getting tired of completely re-imagined neighborhood lines and surprise walkups, real estate site Lovely just added a direct-to-landlord application feature this week. Like job application sites, the new feature will let you you fill out your basic information and send it to multiple landlords. Unlike the rest of the site, the Apply with Lovely feature isn't free, but you can include a free credit report with your applications through a partnership with Experian. You'll also find out if your application's been accepted right through the site, but signing the lease still requires the archaic pen and paper approach.
QuizUp levels up Billing itself as the "biggest trivia game in the world," QuizUp is a social trivia game app and it just launched for iPhone. There are over 100,000 questions in 300 categories so everyone's able to find their niche topics. There are also chat and discussion functions in the app so you can rub it in when you win and throw a fit when you lose. So if you actually have any friends after Words With Friends loses its edge, you and your crew can now argue about trivia wherever you go.
Boxing it up Birchbox, faithful deliverers of trendy personalized product samples, are now branching out by launching fashion designer Cynthia Rowley's first cosmetic line on their site. The first products are available now as a bundle including a lovely rosy, beige, champagne-y eyeshadow palette, liquid eyeliner, and a bag to keep it all in.
One-for-one for all Tired of giving away only (extremely comfortable) shoes, Toms launched an online store this week that stocks only other socially conscious goods. Boasting over 200 products from 30 similarly-minded companies, the Toms Marketplace is a wondrous cornucopia of knitted caps and chunky scarves. Notable vendors include Movember, Charity:water and Jessica Alba's Honest Company. But if you're picky about your good will, the Marketplace will let you search by both the region of the world you want to help, and the particular issue your fashion sense feels strongly about. Because that is definitely why you buy the shoes.
Move over, Curiosity Think you can do better than JPL? Project Peon will let you find out. It's a new physics-based iPad game that requires you build your own planetary rover for adorable bubble-like creatures to ride in. It's one part sixth-grade science project, one part Box Car 2D, and a million parts frustration. But those little alien bubbles are really, really cute.