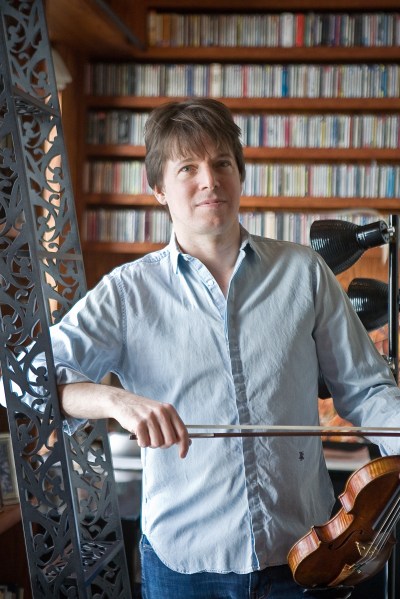 Joshua Bell lives out of his suitcase 250 days a year. The 45-year-old violinist travels from country to country, spreading his music around the world. So when he comes home to his spacious apartment in the Flatiron District, which he designed with the renowned architect Charles Rose, he likes to be comfortable. And he likes to entertain.
When we stopped by on a recent morning, Mr. Bell had just flown in from Europe. Opera purred in the background as we settled into the library, where Mr. Bell—whose holiday album, Musical Gifts, was released last month—most often practices. For the moment, Mr. Bell could afford to take a break from his busy schedule. But not for long. In less than a week, he'd be packing up his Stradivarius and heading off for China.
When did you find the apartment?
I found this place about 10 years ago. I was living next door. I love my block so much that when this became available I jumped at the chance, even though the apartment was not to my liking at all except for the space. But it was also a great opportunity for me to design something with an architect from scratch and do everything just the way I need.
What does that entail?
The downstairs is a more private space, with a media room and bedrooms and things like that. But upstairs, I knew I wanted to do a lot of entertaining, and so I needed a big space that was rather open to be able to invite lots of people. I like the idea of a house soirée—music and friends and wine and eating. I've had more than 150 people here for a concert.
What are the most cherished items in your apartment?
Obviously, the violin, a 300-year-old Stradivarius, is the most cherished item. It's worth more than the apartment.
Also, the display of my autograph collection—many of the photos and autographs came from my teacher, Josef Gingold. There's Einstein with Bronisław Huberman, who owned my violin. There's Gingold's teacher, Eugène Ysaÿe, who was one of the great violinists. Some of them are composers, and I play their music—so when I'm practicing, it's kind of fun that they're there.
And then maybe my Grammys. Those sort of mean something to me.
The violin also plays a role in the design of the apartment, doesn't it?
The violin is basically ebony against a reddish-brown maple, and it's such a distinctive contrast that I thought it would be fun to make the apartment out of those materials. So the long, black bench that runs 100 feet from one end to the other basically is like the fingerboard on the violin. And the floor is a kind of African rosewood.
Then there are a lot of little details, like the grates for the heating vents and also the ladder in the library have a kind of violin scroll design—we did that to hint at it. I didn't want a violin-shaped house.
Which room do you spend the most time in?
Probably the library, where I practice. I also spend a lot of time, when I'm home, in the big media room downstairs, because I have a big projector screen that comes down. I use it for watching football, one of my big hobbies.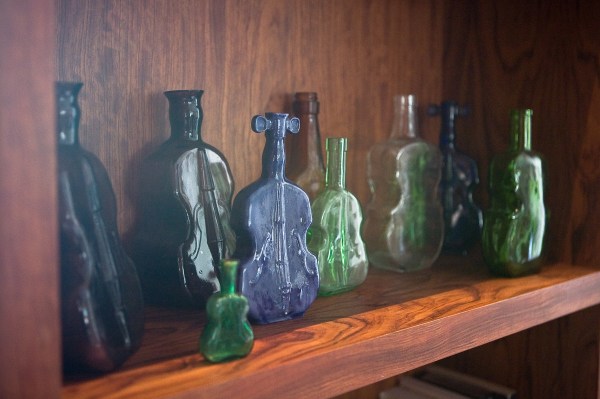 What's your team?
My main team is the Indianapolis Colts, because that's where I grew up. But I follow almost every game. I tend to tape them and fast-forward through them.
What's your favorite thing about your apartment?
The outdoor shower on the roof is one of my favorite things. When it's a nice day, early in the morning, I go out in my bathrobe, and while you're showering you can basically see the city through the slits.
Are you friendly with your neighbors?
Yes, but I don't see them very much. The nice thing about living here is that it's very private. I have the top two floors and the roof, and the first thing I did was to soundproof the apartment. I can practice at three in the morning, and I've never had a complaint. It's nice to know I can do that. In Manhattan, a lot of my colleagues get in big trouble with their neighbors.
Any house concerts in the works?
We're going to try to get as many as people as I can from the new album to do a house show in late November, which will be broadcast live over the Internet, on Medici.tv. I'm also doing a fundraiser for my six-year-old, who goes to a special music school by Lincoln Center. I'm going to get him to play his cello with me, which will be a little reminiscent of the old days. My mother and I used to play together.
Do you get to see your children often?
Yeah, I have three kids, and they live a block-and-a-half away. We arranged it that way. I go back and forth between the two places on a push scooter about three times a day. It's hard enough—because I'm gone so much—not to see them, so when I'm home it's nice that they're very close. And the mom and I are great friends, so it's an easy situation.
Do you prefer playing in your home or at Carnegie Hall?
Carnegie Hall is probably my favorite venue in the world, but it's 2,800 or so people. There's something I love about playing in the house. I have a lot of friends who never went to classical concerts until they knew me. I've invited them to Carnegie Hall and then I've invited them to my home, and they feel the power of the music that much stronger when it's right up close. There's something very special about that way of making music.