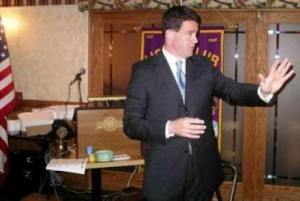 TRENTON – For four days in early September, Fort Lee turned into Fort Chaos as lanes to the George Washington Bridge were closed – ostensibly for traffic studies – but in reality for reasons lawmakers say were shrouded in politics.
Former Sen. Bill Baroni, deputy executive director of the Port Authority of New York and New Jersey, one of four Authority officials invited to appear Monday before the Assembly Transportation Committee and answer for the bi-state commission's conduct, showed up.
Chair John Wisniewski, (D-19), Sayreville, a frequent critic of the agency, was none too pleased with the circumstances of the closures, including the lack of notice to officials.
Baroni spent time explaining to the panel today about the daily 6 a.m. to 10 a.m. practice of dedicating three lanes to Fort Lee traffic in order to help alleviate the traffic delays overall.
"The Port Authority is very sensitive to the effect'' of the impact on municipalities regarding traffic on the world's busiest bridge, he said.
Regarding the snafu two months ago, according to Baroni, the Authority's director of Interstate Capital Projects, David Wildstein, decided on Sept. 5 to begin a traffic study on Sept. 9 following consultations with Authority officials, including police and engineering staff. Wildstein is the former editor of PolitickerNJ.
Part of the goal was to determine what effect was being felt by the 95 percent of non-Fort Lee commuters, but he admitted it was not handled properly.
Baroni gave a mea culpa to the committee, admitting there should have been more openness and transparency for officials and the commuting public.
Two weeks' notice to towns, for example, will be just one of the changes implemented going forward, Baroni said.
"The Port Authority has learned a valuable lesson,'' from the events of September 2013, he said.