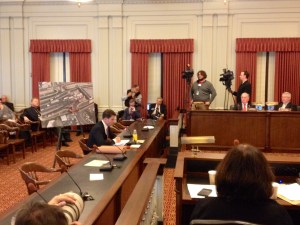 TRENTON – Lawmakers and Port Authority officials dived into the weeds of the daily traffic snarls of the George Washington Bridge today after Deputy Executive Director and former Sen. Bill Baroni pledged better openness regarding future lane closures.
The Assembly Transportation Committee questioned Baroni about the reasons for the early September lane closures that affected the Fort Lee commuters, who make up less than 5 percent of the daily traffic on the world's busiest bridge.
Baroni used photos and posterboard displays to convince the lawmakers of the traffic-based necessity for studying traffic patterns.
The Authority reduced the Fort Lee-dedicated rush hour lanes from three to one for a study, a study whose motivations some lawmakers have previously questioned as possibly political in nature.
Because of the special lanes for Fort Lee, there are motorists everywhere else stuck in traffic, Baroni told the lawmakers. "How can you not ask the question how is it fair for 95 percent of commuters everywhere else?" Baroni said.
"You can't make this analogy for any other bridge in New Jersey,'' Baroni said.
There are roughly 4,800 drivers, less than 5 percent, of the commuters who call Fort Lee home, he said.
According to Baroni, 102 million vehicles crossed the George Washington Bridge in 2012, "a vital lifeline for commuters, visitors and regional commerce.''
"Drivers from more than 200 municipalities in New Jersey endure delays nearly every day, and that wastes time for drivers, it exacerbates air pollution, and it undercuts the economic competitiveness of the region.''
But Chair John Wisniewski pressed for answers regarding the lack of openness and the way Fort Lee was treated in this situation, receiving no advance notice.
"This communication didn't work, Mr. Chairman, you're absolutely right,'' Baroni said.
But Wisniewski pressed for who made the phone call to put the traffic cones out and close the lanes.
Baroni reiterated his opening statement that David Wildstein of the Authority made the decision to conduct a one-week study. Wildstein is the former editor of PolitickerNJ.
"What are the steps'' Wisniewski said, between a decision being made in an office and others implementing the incremental stages.
Baroni kept returning to his general mea culpa that this should have been handled better.
Wisniewski said to Baroni that "you've made it abundantly clear'' that there is a policy question to examine the lane situation. But he said the Authority showing up today and pledging to do better is a little late.
Unless lawmakers know all of the individual steps taken at the Authority, this can happen again, Wisniewski said.
Wisniewski pressed on why the study was conducted when it was.