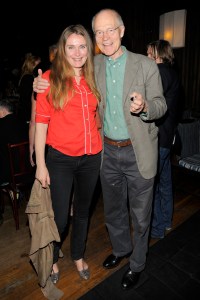 In November 2009, the German art collector Udo Brandhorst agreed as part of a child custody agreement with his former mistress, the art dealer Venetia Kapernekas, to put his Soho apartment—then valued at $5 million—in the name of the couple's daughter. It's unclear whether the third-floor condo at 104 Wooster Street that sold earlier this month for $5.5 million—a touch shy of the $6.25 million ask—is that same apartment, but the seller, according to city records, was most assuredly Mr. Brandhorst himself. The property, which was listed with Meg Siegel at Sotheby's, has passed into the hands of the mysterious and comically-named Makwooster LLC, which sounds like a front for a comic book villain.
Mr. Brandhorst was married to Henkel AG heiress Anette Brandhorst until 1999, when Ms. Brandhorst died of cancer. As heir to the Henkel trust, Mr. Brandhorst—who with his wife began collecting art in the 1970s—donated his considerable holdings in classical avant-garde and pop art to the southern state of Bavaria, which expended $67 million constructing a suitable gallery in Munich, known today as Museum Brandhorst. Among the items displayed there is Damien Hirst's 20-foot-long pill cabinet somewhat ridiculously-titled "In this terrible moment we are victims clinging helplessly to an environment that refuses to acknowledge the soul," which also figured in the aforementioned custody battle.  (The museum also owns Hirst's "Looking Forward to a Complete Suppression of Pain," which seems to us an at-least-equally-fitting name for that elongate pillbox.)
Certainly, Mr. Brandhorst's old Wooster Street pad does not have quite the display capabilities of a museum, but its dimensions are sufficient to house a few Hirst monuments. A bright, open, white-walled loft, with high ceilings beamed with original dark wood, the unit boasts 3,175 square feet, with a particularly massive combined living-dining space. Clean lines, and blonde wood flooring and shelving lend the condo further semblance to a gallery space, while kitchen implements from Miele, Viking and Sub-Zero more closely recall high-end restaurants.
Though we are sure that she is eminently well-cared-for, we cannot help but feel slightly sorry for Mr. Branhorst's and Ms. Kapernekas's daughter, if she has indeed been deprived of a place on "SoHo's best block." Danny Davis, a broker at Town Residential who has handled listings at 104 Wooster, hedged when The Observer caught up with him to ask whether that claim might reasonably be contested. "Well, how could it be official? That's an opinion," he said. "But I will say that Wooster between Prince and Spring is one of my favorite blocks in SoHo. It's about as good as it gets."
Whatever the case, that Makwooster—whoever he is—is in for a treat.