I hate hosting parties. I am absolutely rotten at it. The last party that my fiancé and I threw was a housewarming party two years ago. My fiancé spent the entire time charming guests in the living room while I frantically made plate after plate of pigs in blankets that no one ate.
But as the holidays and my wedding are approaching, I decided to be more proactive about my hosting abilities. So I contacted Daniel Benedict, co-owner of the new Bleecker Street Arts Club. Ever since the club's opening this spring, Mr. Benedict has held monthly parties to celebrate new artists, friends' birthdays and a host of other occasions. They're fantastic. One of the most important factors in pre-planning, he tells me, is the guest and seating list.
"In New York, it's hard, because you have to not only think of people's personal relationships, but their business ones as well," Mr. Benedict said as we perused the flower district for table props. Those, I learned, can be anything from one-stem flower vases that he surrounds with votive candles to colorful cabbages in rustic pails for a cheap counterpart to centerpieces. For sit-down dinners like the one Mr. Benedict hosts, place cards tend to help keep people in line, though if you're going to have a big name at the table, be prepared for guests to try some clever maneuvering. "I've had people try to sneak their names closer to someone they wanted to be seen with," he told me. "Which is where place cards come in handy. It's easier to say, 'Oh, look, there's been a mistake. You're actually supposed to be sitting over here.'"
It's not just because they want to be pals with someone famous. "Never underestimate how much people care about their causes or their children," Mr. Benedict warned. Case in point: During one dinner he sat a celebrity next to a famous designer, thinking that the two would hit it off. Instead the star spent the entire time trying to get the designer to invest in their new clothing line.
When it comes to getting their children a leg up—be it in schools, special programs or what have you—normally reserved A-listers tend to lose all sense of perspective.
While stooping down to check out some driftwood logs in the cramped aisle of Jamali Floral and Garden supplies—a favorite of Mr. Benedict. Mr. Benedict stopped to give us advice on table decorations. "You don't want to have them be above eye level, because people will start to move them around so they can see each other," he warned. Minimalism too, can go a long way: For his dinner engagement Friday, Mr. Benedict used a burlap type of material for the tablecloth, underneath which he put regular white linens. He apologized in advance for what he called the "summer" place settings. (Funny, I just thought it was a nautically themed event.)
"If you're going to have a lot of parties, it's good to start buying some of the things most people rent, it will save you money in the long run," Mr. Benedict advised, though that could lead to reusing some former decorative elements like chairs, linens, plates, silverware and glasses. "The nice thing about renting is that stuff can be delivered all wrapped up nicely, and at the end of the night you can dump the dirty stuff into these trays and have the rental company pick up a couple garbage bags full the following day." If you are going to use your own utensils and such, Mr. Benedict warned that you should have a clean-up crew in place. "The last thing you want to do at 2 a.m. when you are slightly hungover is deal with a disaster scene in the kitchen."
Good to know for the next time I decide to go bonkers with the mini hot-dogs.
Mr. Benedict swears by KitchenSurfing.com, where you can pick local chefs after they've been vetted by the website's owners. For the Friday dinner at Bleecker Street, Mr. Benedict and his business partner have hired a woman they've previously used from KitchenSurfing whose specialty is local seafood. It's an eightcourse meal (not including dessert) which will last three hours and introduce us to in-shell sea urchin, local Carolina octopus, home-cured meats such as salami and duck for appetizers, oversized baked clams and Sous Vide short ribs, which are cooked in bath water temperatures for 48 hours before being seared. For vegetarians, there is a mushroom risotto.
"You can never have enough wine," Mr. Benedict tells us, doing some quick math and estimating roughly a bottle per person. "You have to remember, over the course of a night a person will drink 4-5 glasses of wine, and that's basically an entire bottle." For liquor, one can be a little more stingy: a bottle or two of Brooklyn-made vodka can suffice.
And Mr. Benedict stresses that a smaller space doesn't mean you can't have beautiful parties. Not everyone can do the Donna Karan lighting arrangement that Mr. Benedict saw the designer construct a few years ago, which included floating ceiling candles à la Harry Potter. However, everyone can work in a few—candlelight tends to emphasize everyone's best features. Just make sure the wax is non-scented! "The last thing you want is to have your meal taste odd because everyone is smelling fake cherry," he cautioned.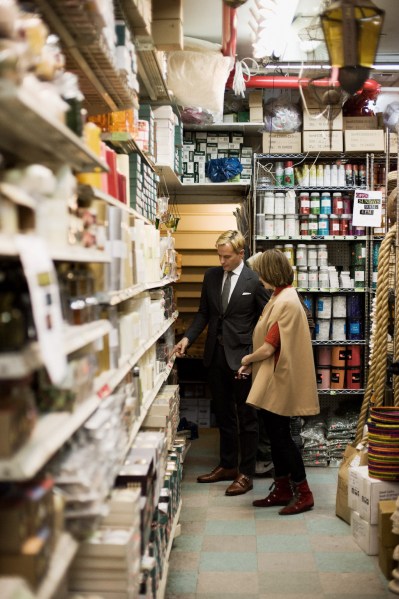 Though there is always going to be the element of surprise when hosting a dinner party—even if you are very careful and send only paper invites, which Mr. Benedict no longer does (like many of us, he's converted to PaperlessPost.com).
His most important piece of advice? Get RSVPs for a sit-down dinner so you can plan the ratio of guests to the number of "help" appropriately. Too many people standing up and serving can cramp conversation and make people feel awkward, Mr. Benedict noted, while too few can mean that service will be inconsistent and some people will end up waiting too long for their food to arrive. From what we were able to eyeball at dinner, there should be roughly one server for every five-six people (and that's not including kitchen staff).
Though if you visit my apartment, the server may still be me. But the food I'm serving will be far better than it was two years ago.