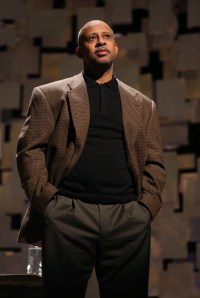 Back in October 1984, the playwright and actor Ruben Santiago-Hudson, then new to New York and unplugged professionally, popped into the Cort Theater during intermission and caught the second act of August Wilson's play Ma Rainey's Black Bottom. Watching it, he discovered what he wanted to do with the second act of his own life. "The human beings who occupied that stage were so familiar to me," he recalled recently. "It let me know that there was a space and a place where people that I knew could be celebrated, and so I said, 'I want to be a part of that celebration, somehow.'"
On Nov. 24, which happens to be his 57th birthday, Mr. Santiago-Hudson officially morphs into the late August Wilson in Wilson's autobiographical one-man show, How I Learned What I Learned, which just extended its sellout run at the Signature Theater until Dec. 29. It's the latest move in a lifetime dedicated to Wilson's work.
It's not a play in the way that Wilson's preceding 10 award-winning works were plays. This is more of a posthumous postscript that Mr. Santiago-Hudson and director Todd Kreidler, Wilson's longtime collaborator, pulled together from lectures the playwright, who died of liver cancer in 2005 at age 60, gave over his last several years. "As opposed to sitting down and writing another play, this is more like 'Let me tell my stories,'" Mr. Santiago-Hudson explained.
Their piecemeal approach to dramaturgy is playfully echoed in David Gallo's set. Thousands of sheets of manuscript paper dangle over the stage, and on them, printed with dirty typewriter keys, are various topic headings: "Something Is Not Always Better Than Nothing" recalls a radio contest Wilson's mother won for identifying what "rains when it pours," and, when she showed up in person to claim her washing machine, the station tried (unsuccessfully) to pawn her off with a coupon for a secondhand washer. "Willing to Die" illustrates how close the ever-challenging Wilson came to death debating how far he should go to get a simple bank envelope or to teach a crude bartender some good manners.
Wilson, who was born Frederick August Kittel, pitched all but the first of his 10 plays in his own backyard—the Hill District of Pittsburgh, treacherous turf to grow up on during the '40s and '50s. He caught the tone of that hard-knock life perfectly in his plays—funny and folksy, but never far from a savage outburst. The virtue of How I Learned What I Learned is you know where he's coming from.
By any other name, the play is August Wilson: The Early Years, with the emphasis on his lesson-learning 20s, "when he was discovering he was a poet and trying to figure out how to negotiate a poet's place in the world," Mr. Santiago-Hudson explained. "Also, it is about him, as a 20-year-old African-American from a biracial family, trying to really find his identity, under the wing of all these incredibly interesting people of color who were pulling him into their camp and saying, 'You just like us, and the world is going to look at you just like us, and there's a place for you with us' when the other part of America was saying, 'There's not a place for your black ass with us.'
 "August presented this show, I think, in two places—at Seattle Rep and at Roxbury Community College in Boston. There are audio recordings of him. In fact, the show is a transcription of one of his performances, which he would change nightly. I don't have the luxury of doing that. I'm learning a word-for-word, if-and-or-but play."
As with any other kind of performance, the actor senses himself surrendering to the playwright. "It's inevitable," Mr. Santiago-Hudson said. "He takes the reins from me and eventually drives the show himself. … We had a similar voice, and I don't mean cadence—although we did share the rhythm of Northern colored people. We had similarities—not identically, but we had a lot of the same thoughts about our people and our art, and that's what made us kindred spirits: the revolutionary in me and the revolutionary in him, the vulnerable person in him and the vulnerable person in me, the mama's boy in him and the mama's boy in me."
In Mr. Santiago-Hudson's case, you could make that the "grandmama's boy." Like Wilson, he was the product of a biracial union. He was raised by his grandmother, and therein hangs a tale, Lackawanna Blues, which he first wrote as a one-man, 20-character play to perform at the Public Theater and then as a very starry HB0 TV-movie.
After second-acting Ma Rainey's Black Bottom, Mr. Santiago-Hudson planned to go to Yale to study with (read: connect with) Wilson's highly esteemed director, Lloyd Richards, but abandoned those plans when he learned Mr. Richards had left academia for the commercial theater. From 1987 to 1990 when Fences, Joe Turner's Come and Gone and The Piano Lesson were being brought to Broadway, all with roles he would be right for, Mr. Santiago-Hudson was trying to get his foot in the door. "I wrote them both letters, but nothing happened. Finally, I found a way to introduce myself to them, but I had no impact whatsoever. Unless they see and taste your wares, they just don't know how well you can cook."
His persistence eventually wore them down and got him an audition for Two Trains Running. "They gave the role to Laurence Fishburne, who won the Tony with it, so they got a good shot there, but they remembered me, and, when Seven Guitars came along after that, I was invited into the room." This time it was his turn to win a Tony.
The play explored the last week of Floyd "Schoolboy" Barton, a blues guitarist on the brink of a breakthrough. Mr. Santiago-Hudson was Canewell, his harmonica-playing sideman/sidekick who came in two gearshifts: a dry deadpan delivering rapid-fire dialogue. It was a focus-puller part, and he refined it on the long tour to Broadway.
"I initially took the information given me in the script and followed it as truthfully as I could—then I added to it. August and Lloyd allowed me to let the character grow. In time, I became the master of Canewell and began showing them who he was. August took note and started writing toward what I was showing. It was a collaboration."
His Canewell is one of the nine Wilson-written roles that have won Tonys (Viola Davis won two), and 23 other actors have been nominated as his characters. Many of them were recruited by Mr. Santiago-Hudson to reprise their original roles or do other ones last August and September for New York Public Radio's readings and archival recordings of all 10 of Wilson's works.