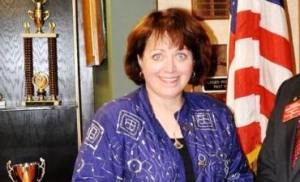 One of the state's most powerful unions, the New Jersey Laborers Union, endorsed Kathleen Donovan's 2014 re-election as Bergen County Executive, citing her "strong record of reforming county government, encouraging and attracting economic growth, and creating family-sustaining jobs for local residents."
The union draws from more than 20,000 members statewide – including 3,000 members of Building Laborers Local 3 and 8,000 members of General and Heavy Construction Laborers Local 472 representing Northern New Jersey.
Laborers Vice President and Eastern Regional Manager Raymond M. Pocino praised Donovan's competence and commitment to Bergen County as the primary reason for the union endorsement.
"Since taking office three years ago, Kathe Donovan has improved county services and crafted policies that help residents and support and attract business," said Pocino, who endorsed Gov. Chris Christie's 2013 re-election. "Our membership is greatly appreciative of what she has done to help Bergen County move forward.
"With regard to the New Jersey Laborers Union's key industry — construction – Kathe Donovan has shown a keen understanding of the importance of responsible infrastructure investment and has implemented policies that raise both construction and community standards through the use of government policies such as Responsible Contractor Language and Project Labor Agreements."
He said Donovan played an instrumental role in kick-starting two development projects in Bergen County, citing the $3.7 billion American Dream Meadowlands and the $330 million corporate headquarters of LG Electronics in Englewood Cliffs. The two projects will create more than 11,000 construction jobs as well as 16,000 permanent jobs, according to Pocino.