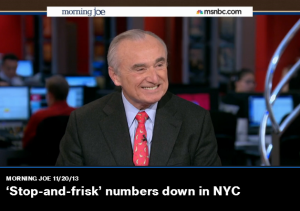 Former Police Commissioner Bill Bratton is ready to come back to his old job in City Hall.
Speaking on MSNBC's Morning Joe this morning, Mr. Bratton revealed a recent meeting with Mayor-elect Bill de Blasio and openly expressed his interest in becoming  NYPD commissioner once again.
"I had the opportunity yesterday to meet with Mayor-elect de Blasio and to talk about the position, about my perspective," he said. "I'm in a position, as a result of that conversation, having looked at it quite seriously."
"If asked," he added, "I would be very interested in coming back into that position."
As recently as yesterday morning, Mr. Bratton told reporters that de Blasio had yet to contact him about joining his administration.
Mr. de Blasio has frequently cited Mr. Bratton, who served in the Giuliani administration, as a potential hire for the city's top cop job, along with NYPD Chief of Department Philip Banks III. First Deputy Police Commissioner Rafael Piniero has also reportedly met with Mr. de Blasio about the position.
And, even though Mr. Bratton was openly discussing his meeting with Mr. de Blasio on the show, de Blasio spokeswoman Lis Smith told Morning Joe "every name that's out there is nothing more than speculation at this point."
Watch the clip below: