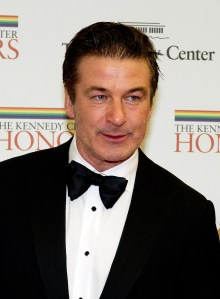 Mayor-elect Bill de Blasio has no sympathy for one of his biggest fans.
Mr. de Blasio today said that actor Alec Baldwin deserved to be fired from his new MSNBC talk show for allegedly using "inappropriate" and "sad" anti-gay slurs–but left the door open for the often hot-headed actor to attend his inauguration.
"What he said was inappropriate and very sad," said Mr. de Blasio, speaking to reporters after visiting a Brooklyn food bank. "I think, you know, he's someone who is very intelligent and on many issues has said important things. But in this case, what he said was just plain inappropriate."
MSNBC officials announced this week that Mr. Baldwin's new show, Up Late, had been canceled after the actor was caught on camera allegedly calling a New York tabloid photographer a "cock-sucking fag."
Mr. Baldwin–an early and vocal supporter of Mr. de Blasio's during the campaign–partially denied he used the phrase, but that wasn't enough to convince Mr. de Blasio, who appeared on the premier episode of Up Late.
"I'm sorry that he suffered the consequences he did, but, you know, it was the result of his own actions," said Mr. de Blasio today. "So I would simply say: That's my view on what he said and what he did. But that does not extend to how I view something like a civic ceremony like an inauguration."
Mr. de Blasio was further asked if he wanted to send a message that Mr. Baldwin would not be invited to his New Years inauguration festivities.
"I don't think it's a question of whether someone's invited or not. A lot of people participate in inaugurations and I don't necessarily agree with them on everything," he said. (A de Blasio spokesperson did not immediately respond to a request for comment on whether that meant Mr. Baldwin might indeed be attending.)
For his part, Mr. Baldwin has apologized for his remarks.
"I did not intend to hurt or offend anyone with my choice of words, but clearly I have — and for that I am deeply sorry," Mr. Baldwin said in a statement posted on the show's website. "Words are important. I understand that and will choose mine with great care going forward."