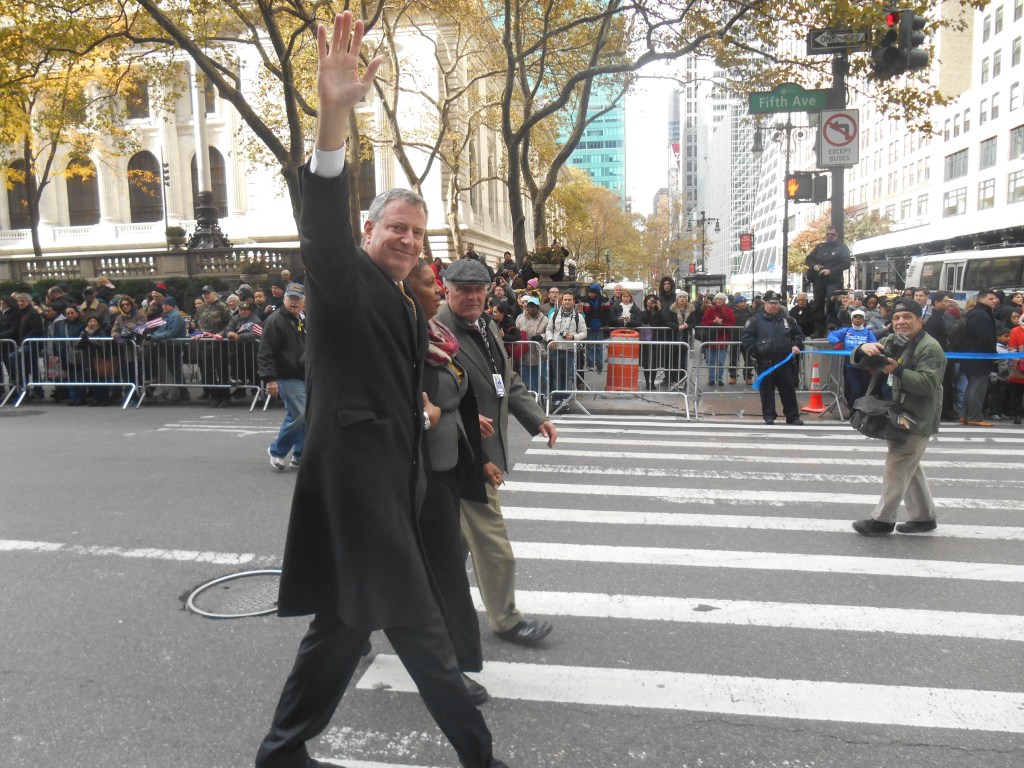 Bill de Blasio, fresh off his overwhelming victory last week, marched in today's Veterans Day parade as the newly-minted mayor-elect, greeting a bevy of fans and the occasional heckler on Fifth Avenue.
Mr. de Blasio, the son of a World War II veteran, began the morning speaking at a Veterans Day wreath laying ceremony at Madison Square Park and then set off on the march, where he was greeted by a mostly eager crowd. Along the route, he stopped–occasionally to a policeman's chagrin–to shake hands with admirers. But a few individuals also loudly booed the Democrat from the sidelines, although that didn't slow down the next mayor's stride.
And despite his distinctive height and rising profile, at least one parade goer wasn't sure who she was staring at.
"Are you de Blasio?" cried a middle-aged woman, clinging to a camera, from behind a barricade.
Mr. de Blasio, laughing loudly, told the woman he was.
Before the parade, Mr. de Blasio also fielded–and evaded–a few questions on the hot topics of the day. He had little to say, for instance, about the speaker's race, which he is reportedly trying to influence behind-the-scenes, but implied he could choose to play a role in the process as time draws closer to a vote.
"It's clearly, the vote of the council members is what matters," he said when asked about his potential role. "They are the ultimate decision-makers. But … it's not time for us to focus on that yet. When the time comes we'll look more closely at it, but it's absolutely the ultimate decision of the council members."
Public Advocate-elect Tish James, who marched at Mr. de Blasio's side, was equally dismissive.
"I am agnostic," she told Politicker when asked about the race. "Right now, my focus is on having someone restore my budget."
During the parade, reporters asked Mr. de Blasio, currently the city's public advocate, what advice he had for his successor.
"Keep the mayor honest at all times," he offered, as Ms. James stood nearby.