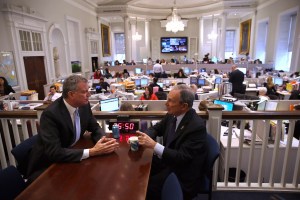 More than two weeks after being elected the city's next mayor, Bill de Blasio yesterday announced the 60 names that will lead his transition team.
The list, which include civic and business leaders, provides a window into the kinds of men and women the mayor-elect will likely choose to lead his administration–and underscores differences in the approaches of Mr. de Blasio and the current mayor, while at the same time reassuring the business world he won't rock the boat too much, observers say.
"I think he's got a great cross-section of people," Bill Cunningham, Mayor Michael Bloomberg's former communications director told Politicker. "There's a mix of the familiar and new faces."
Included on Mr. de Blasio's transition team is big business (MaryAnne Gilmartin, president of Forest City Ratner Companies and Douglas Durst of the Durst Organization); labor (Vinny Alvarez, president of the NYC Central Labor Council and George Gresham, president of 1199SEIU); tech (William Floyd from Google, Tim Armstrong of AOL); and the arts (Thelma Golden, director of the Studio Museum of Harlem, and Karen Brooks Hopkins, president of the Brooklyn Academy of Music). There are also wise men (Peter Madonia, Mayor Michael Bloomberg's former chief of staff who now works for the Rockefeller Foundation, and Harold Ickes, the Former White House Deputy Chief of Staff); noted activists (Zakiyah Ansari, from the Alliance for Quality Education); and even a celebrity (Sex and the City actress Cynthia Nixon).
"There are people in here from the Bloomberg and Dinkins administrations, people with national experience. So it looks like he's going to get a lot of different opinions on how to go forward," Mr. Cunningham continued. "A lot of the names have changed, but I think it's pretty much along the same model that Mike had 12 years ago."
But Doug Muzzio, a professor at Baruch College and longtime observer of city politics, said the extensive list also represented a break from Mr. Bloomberg, whose transition team was dominated by more established, bold face names, including Randi Weingarten, head of the teachers' union, Mr. Dinkins's transition chair Nathan Leventhal, Michael Finnegan, then managing director of JP Morgan and Diane Coffey, the managing director at Peter Solomon.
"It's different people than Mike Bloomberg in 2001 in terms of where they're coming from and perhaps where they want the city to go," said Mr. Muzzio, noting Mr. Bloomberg's team represented "an extraordinary group of New Yorkers—many of whom are whom we would call the permanent government."
Still, he said Mr. de Blasio's list was impressive. "Overall, I would argue it's a progressive-slash-liberal transition team, but there's lots of seasoned people there as well," he said.
Others had criticisms for Mr. de Blasio's list, which some found lacking despite its diverse range of business and civic leaders. Notably, it does not include any affordable housing or transportation experts, disappointing advocates who work in those fields.
Ken Sherrill, a professor emeritus as Hunter College, also said he was surprised to see little representation from rank-and-file New Yorkers.
"Given the kind of vision that de Blasio articulated in his campaign and given his opponents' willingness to depict him as a Maoist, this team has a rather elitist tinge–not more than Bloomberg's but, still," he said via email.
"This committee seems designed to reassure the political establishment," he added. "For what was depicted as a radical shift to the left, this doesn't look like one."