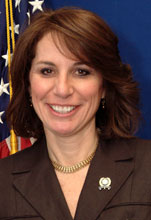 TRENTON – Assembly lawmakers hope to spread awareness about the dangers of sharing breast milk and prevent any sharing program problems before they occur.
An Assembly panel cleared a pair of bills that would establish a public awareness campaign that advises people of the dangers of casual breast milk sharing, as well as establish licensing rules for breast milk banks.
"This is a proactive way to keep healthy babies here in New Jersey," said Assemblywoman Pamela Lampitt (D-6), chairwoman of the Assembly Women and Children Committee, who conceded there's little evidence of sharing programs in the Garden State but said it's necessary to establish guidelines before there's an issue.
"At the end of the day, this is about healthy babies," she said, explaining the risks associated with sharing milk and the rising demand for such programs.
"We're about being proactive about legislation here," she said.
Lampitt, who sponsored both bills, said non-licensed sharing programs exchange breast milk that hasn't been properly cleared for harmful bacteria. Milk sharing has the potential to spread bacteria and other diseases, she said.
Sharing programs cropped up following the devastation of Superstorm Sandy, Lampitt explained, saying there was evidence in the state of people searching for breast milk in addition to people with stored milk looking to donate theirs before it went bad.
The bills, A3702 and A3703, cleared the panel following unanimous support from lawmakers and little discussion.