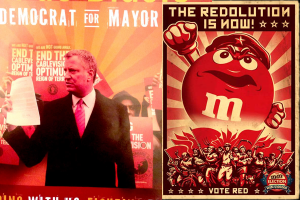 Bill de Blasio has been repeatedly called a "Marxist" as he campaigns for mayor this year, but the Socialist Workers Party candidate in the race strongly disagrees.
Asked about the characterization last night on NY1's Road to City Hall, Daniel Fein let out an audible scoff.
"He is a bourgeois socialist," Mr. Fein declared of his Democratic foe. "He is a candidate that defends capitalism 100 percent–he'll tell you that."
One element of proof, Mr. Fein said, was Mr. de Blasio's enrollment in the Democratic party.
"His party is one of the main capitalist parties which defends this system, which only has war, racism and economic devastation for working people on the agenda for us. I'm the candidate for that's for the working class. When I say 'socialist,' I mean the working class taking control of this country," he added.
Mr. Fein was speaking on a panel with two other long-shot mayoral hopefuls: the Libertarian Party's Michael Sanchez and The Rent Is Too Damn High Party's Jimmy McMillan. Although Mr. McMillan, a perennial candidate for various offices, predicted he'd win in a big upset, the other two indicated they thought Mr. de Blasio would indeed win next Tuesday as the polls suggest.
"We will be campaigning for the working class … the day before, the day of and the day after the election," said Mr. Fein. "The struggle continues."