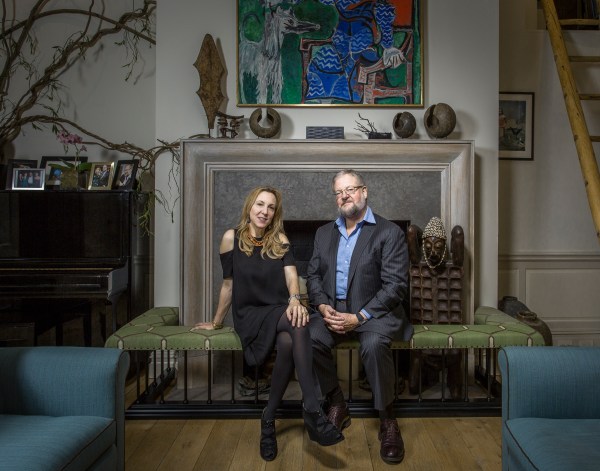 David Rockefeller Jr. will fetch the coffee himself. He's happy to. He buys coffee almost every morning from the stand on the corner outside his Upper East Side townhouse. He's delighted to find that there were also pumpkin muffins for sale that morning—"They're seasonal!"—and he cuts them carefully into quarters for anyone counting calories.
But as you sit there, enjoying a muffin piece, you might find yourself wondering, "Good God, don't they have servants for that?" (In this scenario, you are a P.G. Wodehouse character.)
But you would be wrong. "We live a very simple life in New York," explains Ms. Rockefeller. "Compared to some people, I don't think we live in a very visible way."
The couple has invited The Observer into their nautically themed, art-filled home to talk about their efforts to protect what they love most: the oceans.
He's the chair and founder of Sailors for the Sea, a nonprofit that helps teach boat owners how to protect the ocean and teaches schoolchildren—now as far away as Japan—about marine ecology. As a result of those efforts, significant regattas, such as the Rolex Big Boat series, are now run as "clean regattas," namely, with fewer water bottles, non-toxic cleaning supplies for the boats and an oil spill response plan on every boat.
She chairs the Ocean Council for Oceana, which works to stop ocean pollution, protect marine life and promote responsible fishing practices. The group has been successful in stopping bottom trawling in sensitive marine habitats as well as protecting sea turtles from fishing-related casualties.
"We love the same thing," he said, "although we have different approaches."
In fact, it was the water that drew them together in the first place. They fell in love while working on the This is Alaska film for the Alaska Conservancy. Ms. Rockefeller, a documentary filmmaker, produced the work while he wrote and narrated it. ("I love David's voice," she confessed.) The two were married five years ago, when she was 49 and he was 66, and since then, they've dedicated their efforts to defending aquatic life. "I have more of a beach relationship, and David has more of a sailing relationship," she said. "We always say that he likes to be on the ocean, and I like to be in it."
Part of their shared passion might be due to the similarity of their outdoorsy, nature-oriented upbringings. Her mother was an anthropologist and her father was on the governing council of The Wilderness Society in Washington. Mr. Rockefeller recalls that some of the happiest days of his youth were spent at the farm his grandfather built in 1933. "My grandfather built a stone cow barn, and you could see where the cows grazed and enjoy the fresh milk," he said. That site is now home to Stone Barns Center for Food and Agriculture, a nonprofit farm and education center where children can see how produce is grown, and adults can eat it at Blue Hill at Stone Barns, the notable restaurant featuring seasonal cuisine.
Not surprisingly, bearing the last name "Rockefeller" means being asked to support lots of causes. It also means having the freedom to choose. "The challenge is that there are so many competing issues of poverty, of health and all of that is important," Mr. Rockefeller said. Since marrying into the family, "I've really come to realize a deepening appreciation of the legacy through the Rockefeller Foundation and the profound thoughtfulness that goes into philanthropic giving," she said. "The name can open a door but if you don't have a groundedness and something substantive, then it may just open the door."
It would be very easy to say that the Rockefellers are just like us.
They enjoy cooking most of their own meals and are encouraging their four children to do the same. He likes to watch sports on television, especially football. They are a little bit worried about getting to the PTA meeting at their son's school on time later that day. They like to be out in nature, and spend a great deal of time in Maine with their children. "My kids make fun of me," laughs Ms. Rockefeller. "They say, 'Oh, no, not another nature moment!' But I think it's good to pause, and take a look at what's going on and the beauty of the moment. We really try to give that to them, whether it's up in Maine—David has a boat, and takes us out sailing, and we all try to participate and help—or on national park trips. Being together they've really learned about the environment."
They play Scrabble with friends like Nile Rodgers, the lead guitarist from the band Chic, who helped host the Rockefellers' recent Protect What Is Precious benefit at Cipriani. "It's a great thing about this city—a poor guy like me, from the Lower East Side, how am I friends with David Rockefeller?" says Mr. Rodgers. "That's my boy! We play Scrabble."
(Ms. Rockefeller confirms that they love playing the game with Mr. Rodgers, but it's hard because he's memorized nearly the entire Scrabble dictionary.)
But let's be honest—they're not really like us.
Having a name that's international shorthand for "extremely wealthy" has its perils. Five years ago, the con man Christian Karl Gerhartsreiter was arrested for adopting the name "Clark Rockefeller" and living a lavish lifestyle for over ten years—even joining exclusive clubs like The Algonquin in Boston—based on little more than the strength of his assumed surname. (Unfortunately, he Clark didn't buy his muffins from the coffee cart.) The artist Ginés Serrán-Pagán claimed that one of the ways he was able to tell that "Clark Rockefeller" was a fraud was his arrival at Mr. Serrán-Pagán's home in a gold Mazda 626. That is the kind of car a Rockefeller would simply never drive.
There are other intrusions as well, despite the couple's low profile. "We feel very safe in this city, and we're not all that visible, I don't think. But there are crazy people," he said. "We do get phone calls and letters and things. I think everyone who is visible attracts people who think that someone else either is their problem, or can solve their problems."
Taking on the world's problems comes naturally to this couple, who follow a long line of family philanthropists.
From his first paycheck, John D. Rockefeller, David Jr.'s great-grandfather gave to educational and public health causes as well as supporting science and the arts. His son continued this philanthropic drive and gave to myriad social and conservation causes. David Rockefeller, David Jr.'s father, was Chairman and Chief Executive of Chase Manhattan Bank, now JPMorgan Chase, and supported the Museum of Modern Art as well as his Global Development Fund, which supports a variety of health and poverty initiatives, as well as environmental causes.
"There is absolutely a responsibility that comes with carrying the Rockefeller name," Mr. Rockefeller said. "But, luckily, I think it fits with our personal values, and ones that have been transmitted from our parents. More than that, it just feels like this is the right way to live. This is a responsible life."
They're now focused on passing that sense of responsibility on to a new generation. He has two daughters, ages 28 and 31, while she has two sons, ages 17 and 13. They call themselves a "modern, blended family."
"I would say that we educate them through osmosis. We've gone to Africa on safari. Henry [Ms. Rockefeller's son] has been on fire about elephant conservation since then, and David's daughter is a boat captain and getting her master's in archeology. I think through our values we're educating them."
Ms. Rockefeller notes that, by the doorway of their townhouse, they keep a little picture that she thinks looks a bit like a homeless woman. It's a grim scene, and it's intended to remind the children to be grateful for what they have as they go out into the world. You might find something similar in the home of any churchgoing woman in Dubuque.
It's just that, in the Rockefellers' home, the picture is by Whistler.