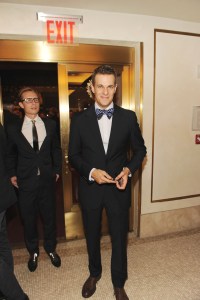 Brian Ellner has been named the executive vice president and group head of public affairs for Edelman, the public relations firm. Mr. Ellner, who is known for his role in marriage equality, was the senior strategist for the Human Rights Campaign in 2011 and worked on the successful push to legalize same-sex marriage in New York.
"I want us to be the go-to New York public affairs practice, working on major civic campaigns, helping clients navigate New York and building innovative and digitally integrated programs for our corporate and non-profit clients," Mr. Ellner told The Observer of his plans for his new role.
Mr. Ellner's hire is the latest in the public relations firm's attempt to beef up its public affairs arm. Earlier this fall, Edelman announced that former Los Angles mayor Antonio Villaraigosa was joining the PR company as a senior advisor—something Mr. Ellner wants to continue in his new role.
"Brian is an exciting addition to our team in New York and further demonstrates the firm's commitment to investing in and growing the public affairs practice," Ron Guirguis, managing director of Edelman New York's corporate and public affairs practice, said in the firm's announcement. "He's a proven leader who has successfully managed major public affairs campaigns in the city, the state and nationally. Brian will deepen our ties to New York, while at the same time helping our entire division adopt a more campaign-style approach to our client engagements."
Mr. Ellner has experience with New York politics. Before he went to HRC, Mr. Ellner worked on education policy with former Schools Chancellor Joel Klein as a senior aide in the Bloomberg administration and ran for Manhattan borough president in 2005 (he lost to Manhattan borough president and current comptroller-elect Scott Stringer).
"It's an exciting moment in New York with the change in leadership," Mr. Ellner said.