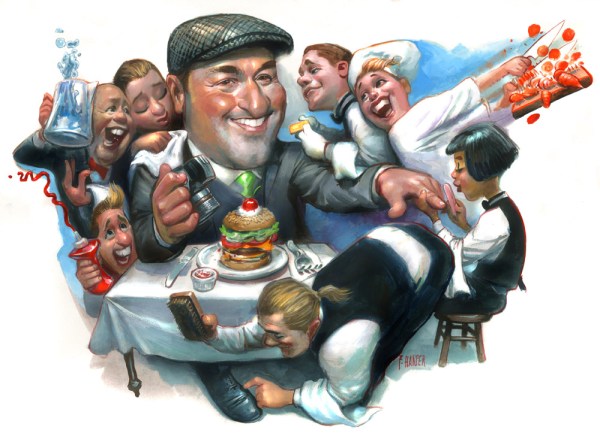 The annual White Truffle Dinner is about to start at SD26, and the Men Who Dine are at the center of the action. The occasion is a special one, even by the standards of New York gastrocrats; each table at the famed Italian luxury restaurant has an entire white Alba truffle as big as a fist on it, of the kind that even world-class establishments only have two or three of at a time. Typically, a diner might get a few shavings laid on, with a courtly flourish, by some liveried captain; here, you just take it and grate as much as you want. 
Christian Louboutin, the shoe designer, is here; Jeffrey Chodorow is at another table with his entire family. The room, an immense space set under twinkling artificial stars, is crammed with the cream of the restaurant's regulars—millionaires, doctors, top executives, Italian high society. 
And in the middle of all of it, the Men Who Dine, bloggers for want of a better word, are clowning with Marisa and Tony May, the restaurant's owners, taking pictures of themselves mugging comically, truffles in each hand. A few feet away, Josh Beckerman, the Foodie Magician, is doing card tricks. All three of them sit with Ms. May at the table of honor. They continue to kid around, tweet and take pictures throughout the meal. 
They are the foodies who have inherited the world.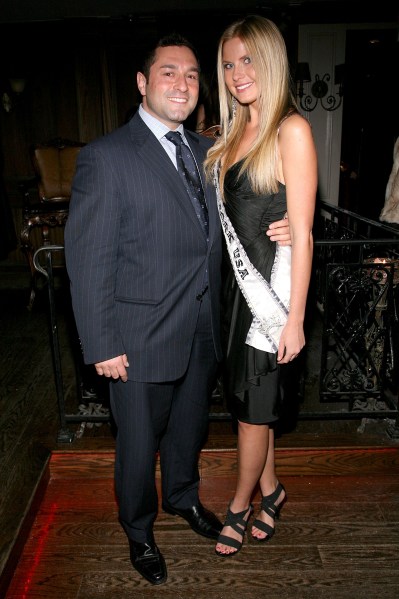 It has become something of a commonplace in the food world to note the extinction of those titanic figures who once represented, even defined, the establishment: The Craig Claibornes, Colman Andrewses and Gael Greenes are either retired or exiled to the Internet; the remaining lions of the food scene, like Ruth Reichl and Jeffrey Steingarten, are not out in the game night in and night out and tend to rely, like the rest of the world, on word of mouth. 
Even their degenerate successors in the blog world, like myself, don't get around as much as we used to. You know who does? A handful of self-styled heralds who broadcast the good news to their mammoth followings.
The Men Who Dine are Gennaro Pecchia and Alan Watts. (There was a third Man Who Dines, Anthony Scillia, but he was cashiered a year ago; a replacement has yet to be announced.) The two have an online magazine with more than 300,000 hits per month and a Twitter stream with 152,000 followers. (By contrast, Pete Wells, the New York Times' restaurant critic, has 59,000.) Between Twitter, their site and a mailing list 80,000 names strong, Mr. Watts estimates that they reach a million guys per month. These tend to be middle-aged married white guys, many of whom live in New Jersey and all of whom like to go to restaurants. 
For this reason, the Men are of inestimable value to restaurateurs like the Mays. "They really capture the moment," Ms. May says of them. "They document all the amazing things my dad and I do. They're very proud to be among the food world they love so much." Watching Mr. Pecchia practically combusting with pleasure at the table, I had to agree. "You look radiantly happy," I told him. "I am genuinely radiantly happy!" he replied. 
Mr. Watts added that he was happy too and then went back to taking close-up images of the food for their site. As a professional courtesy, the restaurant gets all the images to use any way they want; the Men and their friends in the restaurant business are all in it together. "You know, there is so much competition here in New York," Ms. May says. "There's so much against us. They are a real help." 
They aren't alone; there are a number of indie bloggers upon whose appearances restaurants rely. Ms. Greene herself has become one; after her retirement from New York magazine, she simply switched gears and started doing her own Insatiable blog. 
Few free-floating foodies have the sheer stamina of the Men Who Dine, however. In a typical night, they may hit three or four events and restaurants. They travel together, for the most part, with Mr. Watts' $1,000 Nikon D7000 in tow. The previous night, a Wednesday, they went to another white truffle event, this one at Buon Italia, the Italian specialty market, and then Sara Moulton's book signing at a biodynamic wine store downtown. And after that? "I can't remember," said Mr. Pecchia, laughing. "Was there food there?" I asked him. "If they didn't have food, I wouldn't have went!" he boomed back. 
Gennaro really does enjoy the hell out of being Gennaro. Guileless and menschy, beefily handsome, a guy's guy, he gives off a kind of carefree cheer, both in person and in the endless procession of red carpet images you see of him on Facebook. Unlike Mr. Watts, who is married and has two children, the unattached Mr. Pecchia goes out five or six nights per week. He and Mr. Watts met five years ago at a Neapolitan pizza conference in New Jersey, where Mr. Pecchia was born and still resides. (Mr. Watts, a native Manhattanite, has lived in Westchester for years.) Was the SD26 dinner his last stop? "After here, we'll see!" he said. "Hang out with us; you'll get to the good places!" "What is this guy telling you?" Mr. Watts chimed in. The two men tucked into their pasta, merrily grating the precious tubers onto their agnolotti. 
On the other side of the table, the Foodie Magician, in his trademark T-shirt and tuxedo jacket, had his phone out and was using one social media platform, Twitter, to drive traffic to another one, Instagram. "White Truffles. @sd26ny. #magical #toughlife #foodiemagician @ SD26" it ran. Unlike the Men Who Dine, the Foodie Magician has used his ubiquity in the food and nightlife scene to further his day job; when not in restaurants, Mr. Beckerman is a world-class sleight-of-hand performer. 
When first I met him, in 2009, he was doing Brooklyn bar mitzvahs; now, he is getting flown to Mexico to perform at the Ciudad de las Ideas and doing buyout performances at La Cenita for Condé Nast. His true vocation, however, is going to restaurants and events and doing card tricks for hot girls, who are first annoyed, then repelled and finally beguiled by his act. 
Mr. Beckerman seldom gets the girl but is always ready to try again, at this or the next event. His agenda is even more hectic than the Men Who Dine; the previous evening, he started the night with a Captain Morgan dinner at the Downtown pop-up space City Grit, cooked by the Atlanta chef Hugh Acheson and then was invited by "a woman named Morgan" to an event at Distilled NY. ("We're, like, Instagram friends," he said of the lady, whom he didn't seem to remember too well.) 
From there it was off to friends and family at Rochelle's Whiskey Bar ("the old 205 Club") and then dinner at Mr. Beckerman's current favorite restaurant, Sushi Dojo. Finally, he hit a birthday party for Willow Road ("either the first or the second") before finishing up with a drink at Colicchio & Sons.  
A publicist once told me, in conversation, that according to Cesium, a proprietary influence-measuring system, Mr. Beckerman's rank as a tastemaker in New York was No. 40; by contrast, the editor of Food & Wine was No. 99. That is one of the most idiotic things I've ever heard, but it speaks to the impressionistic nature of the food world. "Josh is enthusiastic, he's entertaining, he makes people excited," Casey Brennan, a publicist for the Entertainment Fusion Group, told me. "That's why people want him at their events." Mr. Beckerman's Twitter following is a negligible 1,700, but he says "people just like me."
Of course, one way to make people like you is to not say anything bad about them. Foodie stars are, as rule, somewhat uncritical in their effusions. Their motto is: If you don't have anything nice to say, don't say it at all. Some of their more serious-minded rivals see this as a crippling weakness and make a point of calling them as they see them. 
Chris Stang and Andrew Steinthal, of the enormously influential review site Immaculate Infatuation, make a point of keeping as low a profile as possible and having no physical presence in the food world whatsoever. When I asked Mr. Stang where he saw Immaculate Infatuation fitting in to the Internet food world, he replied, instantaneously, "Outside of it." Immaculate Infatuation prides itself on its objectivity and the disinterest it earns by refusing to schmooze with the powers that be. "I would love to just walk into Daniel and get the five-star treatment," Mr. Steinthal says. "But I'm happier to make an impact on my own and just let it be what it is." Mr. Stang adds: "We want to be able to say if we don't like a restaurant." 
This discipline helps to provide the site's readers with a matchless resource; the two men review four or more restaurants, old and new, high- and low-profile, every week, in the plainest conversational language, and they're accurate, too, more so than most of the big-time, paid critics. But their somewhat puritanical position isn't one they take because they are better than anybody else. It's a way of building their brand. Immaculate Infatuation is a business, with a not-insignificant capital commitment and, at this point, multiple revenue streams from sponsored events. They have, in every sense, an investment in their reputation for objectivity. That kind of detachment comes at a steep cost—that of going out every night, often to multiple restaurants, and paying full price.
This is why food blogging on this level is so rare. Opinions are free, and Internet access not much more, but not everybody can gallop around town, eating in 20 restaurants per week, even, it should be added, at a partial discount: The stereotype of the freeloading food blogger is not entirely inaccurate, but even the most shameless of schnorrers don't get all of their food on the arm. Even if they did, the outsize tipping could beggar an ordinary person. You can go broke eating free meals.
So you have to start out with money. Both of the Infatuation guys have stable day jobs: Mr. Stang is the VP of marketing for Atlantic Records, and Mr. Steinthal is VP of PR for Warner Brothers. Mr. Watts is in real estate, and Mr. Pecchia is one of the directors of the New York State Council on the Arts. Mr. Beckerman hasn't had a job other than Foodie Magician in years; I have no idea where his money comes from, and he won't tell me.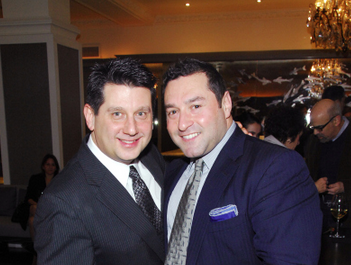 Messieurs Stang and Steinthal, like all of their online peers, are willing to lose money to write about food. This makes them very much representative of their readers, who are also willing to spend a lot of their money in restaurants. Their readers are, they take pains to point out, not obsessive food nerds but regular guys who just need advice. The Immaculate Infatuation reader is an "average working, young professional that loves to eat out but that isn't your quote-unquote typical foodie. … They aren't the people that sit there and idolize the chef. Food is their hobby, but that's different than chef-seekers, the people who obsess on that stuff." 
There are probably not 10 people in the tristate area who read both Immaculate Infatuation and the Men Who Dine, but both their audiences have that much in common. They are not hard-core foodies; they are the great outer perimeter of diners who like to eat but would prefer to be guided by someone who seems just like them yet gets out more they than do. They're not exactly insiders, but they orbit closer to the action and broadcast back their findings to their less well-placed friends and neighbors. The tiny distinctions between one high-end restaurant and another aren't nearly as important as just knowing about them and being in a position to visit from time to time.
To do that, they need a proxy, one who is much like them. What would the average diner look like, brought up from the corner of the bar and given the soigné seat once reserved for the likes of Reichl and Steingarten, were he allowed to hobnob with the great and take selfies with Michelin chefs? The answer is upon us: two guys from New Jersey, say, eating out and living the dream.