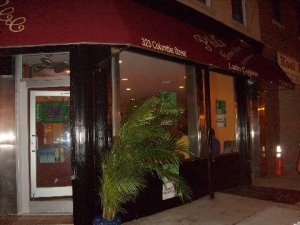 A Columbia Waterfront District restaurant is upping its weekend drinking age to combat the presence of all those annoying, drunken young'uns.
DNAinfo reports that Phil's Crummy Corner, located at 323 Columbia Street, Brooklyn, will only serve alcohol to patrons 25 and older on weekend nights. The decision comes after hordes of complaints from nearby residents about rowdy, loud late-night crowds—often present at the "family restaurant" until 4am on Fridays and Saturdays.
Now, 21-24-year-olds will have to look elsewhere for their vodka-Redbulls. Phil's manager, Isabel Santiago, explained the restaurant's surprisingly cooperative decision to DNAinfo: "Their quality of life is our concern," she said, presumably referring to the masses of binge-drinking youths known to frequent her establishment. Phil's is apparently working to create a "quiet family place," and has recently hired a bouncer. Community Board 6 and the NYPD have also discussed increasing police presence around Phil's on weekend nights.
The complaints were so intense that the restaurant became the subject of a meeting on Monday between the Community Board and the 76th Precinct, where locals showed up to air their grievances.
"You will be shocked about the number of conversations you can hear from my bed," said a resident who lives near Phil's. "They're animals. Friday and Saturday night, it's like animal town."
"I just care about being able to sleep on Friday and Saturday nights," another local said. "That's all I care about."
The past year has also seen 22 311 calls reporting loud revelry in and around the vicinity of Phil's.
The complainers might sound like total lame-os unwilling to relive their college glory years, but maybe their complaints aren't so unfounded. Back in September, outside Phil's, a 25-year-old woman was kicked and punched by a gang of four attackers. And in April, police arrested a male Phil's patron for punching a female victim in the face, and later found him to be carrying 18 bags of marijuana.
We wouldn't want to live near Phil's either. But on the other hand, it still sounds better than working next to Times Square.