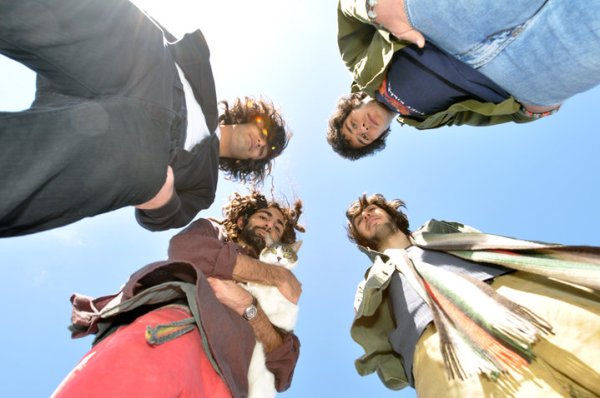 A tragic scene was discovered early Monday morning: Two members of the Iranian band The Yellow Dogs were found dead in their Brooklyn home after a fellow musician allegedly shot the pair, their friend and then himself. A fifth man was also shot but not fatally.
The bodies were discovered inside 318 Maujer Street, near Morgan Avenue, after gunshots were heard just after midnight, police reports revealed.
"Last night, I heard the muffled shots. It was about three, then a pause, and another shot," neighbor Marcus Durant told DNAinfo.
Reports initially claimed that, after one man was thrown out of the band, he showed up with a semi-automatic shotgun at the East Williamsburg house. He fired first at a man outside the building, then went inside to shoot his bandmates on the second and then the third floor before heading up to the roof to shoot himself.
The Brooklyn/Iranian band formed in 2006 and were considered "constants in the NYC indie circuit."
"The Yellow Dogs have been Brooklynites since 2010, when they left Iran to avoid the threat of arrest," their manager's website reads. "Koory, Looloosh and Obaash met and formed the way of young rock bands since time immemorial: Hanging out at a local park as teenagers, among skaters and punk rockers, they bonded over their mutual tastes and began playing together."
Their music, which has been described as "dance-punk-psychadelic," was not sanctioned by Iran's Ministry of Culture and was illegal.
The manager has not yet returned The Observer's request for comment.
Update: Pitchfork received this statement from the band's manager:
The shooter was not a former member of the band The Yellow Dogs; he was in another band from Iran, and the two groups were acquaintances in the past. A personal conflict between the guys resulted in the dissolution of their relationship in 2012. The shooting resulted in the death of two of the members of The Yellow Dogs, Sourosh Farazmand (guitarist) and Arash Farazmand (drummer), along with a friend of theirs, fellow musician and author Ali Eskandarian. The shooter died from a self-inflicted bullet wound on site.
Second update: The NYPD have confirmed the identities of the victims as 27-year-old Soroush Farazmand (guitarist for The Yellow Dogs), 28-year-old Arash Farazmand (drummer for The Yellow Dogs), 35-year-old Ali Eskandarian (friend of The Yellow Dogs and fellow musician) and the alleged shooter, 29-year-old Ali Akbar Mohammadi Rafie (member of The Free Keys).
[youtube=http://www.youtube.com/watch?v=4M8cgQtQUQw&w=560&h=315]