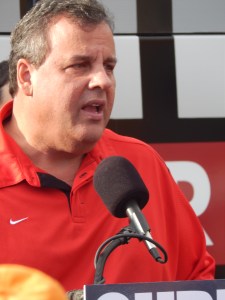 BRIDGEWATER – Gov. Chris Christie said the one thing that worries him ahead of Tuesday's election is the overconfidence of his supporters who look to 2016, and yet in his speech this morning to launch the day's bus tour four days before Election Day, Christie admitted New Jersey has the country's attention.
"America's watching Tuesday night," said the governor, who leads his Democratic opponent 59-40%, according to this week's Fairleigh Dickinson University Poll. "This is not a typical election. They will see Republicans, Independents and Democrats uniting, coming together to vote for the same person; African Americans and Hispanics coming together to vote for the same person. They're going to see our state brought together like it's never been brought together before, and they are going to see the example from here to make the United States great again."
A parking lot crowd roared approval as it observed the governor's wife Mary Pat and former Acting U.S. Senator (and former Attorney General) Jeff Chiesa of Branchburg, exit the Christie campaign bus and unite behind the candidate at his campaign headquarters here on Route 22.
The speech started with an exhortation to Republicans to take back the Legislature and ended with the quote about unity around a single person.
"Would you rather be on their side with four days left or our side?" Christie asked the crowd. "I'd rather be us than them. Are we going to take this for granted or seize on a once in a lifetime advantage? This is not just governor and lieutenant governor. We have an opportunity to make Senate Minority Leader Tom Kean (R-21) the Senate president and Assembly Minority Leader Jon Bramnick (R-21) the speaker. I need them. We've got to get there. A Republican Legislature will cut your taxes on day one of my second term."
Republicans, especially in South Jersey, have criticized the governor's cozy photo ops with Democrats while leaving to dangle the fortunes of GOP candidates in the land of GN3 (George Norcross III) – Christie's cross-the-aisle pro-football fan pal.
Bramnick was in the crowd waiting to board the bus with the governor to tour the state and listened intently as Christie bashed bossism and union influence in the state.
"The elected officials are in charge, not the non-elected officials," he said. "The taxpayers, not the union bosses."
Christie noted how the New Jersey Teachers Association (NJEA) alone is spending $15 million – more than the combined totals of his and state Sen. Barbara Buono's campaigns – to retain a Democratic Legislature.
"Why are they spending all that money? Because they own the state Legislature," the Republican governor said.
Christie shared at least two stories about encounters he had with voters, one an avid supporter who told him she has his back for president in 2016.
"'Nothing gets done until Tuesday night,'" the governor said he told her.
"'Aww, you've got that sewn up,'" the woman said, according to Christie.
"That's what keeps me up at night," he told the crowd, saying his supporters might be too enamored of him as president and not turn out to vote for him on Tuesday.
But Christie sounded plenty confident as he related a story about Gladys, an African American woman from Newark in her eighties, who told him she didn't vote for him the first time, but post-Hurricane Sandy prays for him every night.
When Gladys saw Christie at the Seaside Heights fire she thought he looked tired, she told the governor, and told him, 'I don't know how much more shit this boy can take.'"
Christie related the story with the expletive and got a big hearty laugh from the crowd.