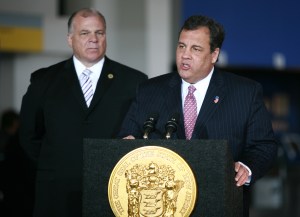 NEWARK – Flanked by Gov. Chris Christie and Senate President Steve Sweeney (D-3) in the bowels of Newark International Airport, United Airlines CEO Jeff Smisek today announced the creation of new United flights from Chicago and Houston to Atlantic City, effective April 1, 2014.
"This is an investment in our home state and we could not be more proud," Smisek said, at a podium with the politicians on the third level of Terminal C.
Christie talked up the partnership with South Jersey and Sweeney – and what he cited as a benefit to Atlantic City.
"We will make sure the citizens in South Jersey continue to grow and prosper, along with the rest of the state," said the governor.
With Sweeney, Chrsitie said, his administration and the Legislature have brought "real change" to the South Jersey pleasure spot, including casino regulation overhaul, the creation of a new tourism district and new CRDA leadership.
"The support we have for this venture could [not occur] without the vibrant support and fighting spirit of the Senate president," Christie said.
"This is a great day for New Jersey," Sweeney said. "It couldn't have happened without the governor. This is what government's supposed to be about: Democrats and Republicans working together to get things done. …It's not D.C. New Jersey's got it right."