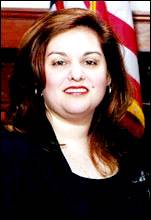 UNION – Gov. Chris Christie may be making a point to court the state's Latino population this election, but the Republican incumbent won't have big gains within the community at the ballot box Tuesday, says one state assemblywoman.
Democratic Assemblywoman Annette Quijano (D-20) says the governor falls short of being a good leader to represent New Jersey's Latino population. Her comments come as Christie spent the day on the campaign trail with the nation's first Latina governor, New Mexico's GOP Gov. Susana Martinez.
"Chris Christie is not going to be sweeping the Latino community on Election Day," Quijano said on the eve of the state election.
"Action speaks," she said. "He doesn't represent the community."
The lawmaker says Christie failed Latinos in the state on everything from jobs to education.
Related story:
Christie isn't focusing only on Latinos or any single group, Martinez says