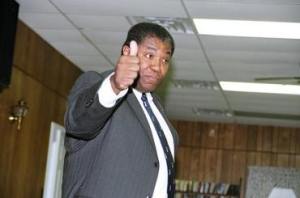 Coming off his legislative victory yesterday, veteran Assemblyman Herb Conaway (D-7) said he has not ruled out pursuing a 2014 Congressional run in the Third District.
"I have been thinking about that," Conaway told PolitickerNJ.com. "I have run for it before. It is somethng I am thinking about, particularly now that the seat is open."
U.S. Rep. Jon Runyan (R-3) announced this morning that he will not pursue re-election next year.
"There are some positive facts on the ground," said the veteran lawmaker, a doctor and attorney and U.S. Air Force veteran. "Cory Booker will be running in 2014, and it's possible that a Democrat in that district would run with a popular nominee for the presidency in 2016, making it a good enviornment conceivably in which to defend the seat. It's an interesting set of political circumstances."
Conaway ran for the seat before in 2004, against then-veteran incumbent U.S. Rep. Jim Saxton (R-3), when President George W. Bush defeated Senator John Kerry at the top of the ticket nationally.
Conaway lost.
The seat is open this time, but Cherry Hill is no longer in CD3, making the district less Democratic than when Conaway ran before.